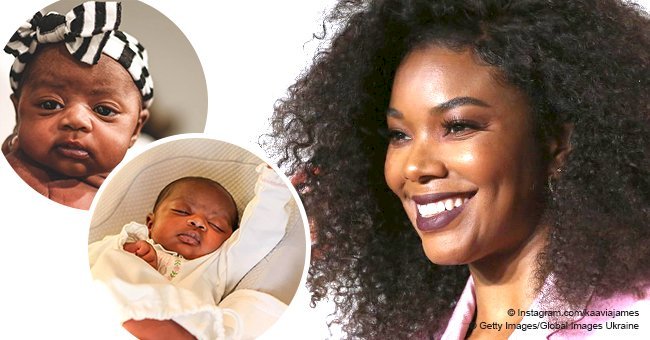 Gabrielle Union shares more cute photos of baby Kaavia ahead of her 1 month birthday
Gabrielle Union is on a roll with new pictures of baby Kaavia James, and who can blame her? The first-time mom will soon be celebrating one month of her baby girl's arrival.
The "Bring It On" actress has been putting out photo after photo of the adorable Kaavia, both on her Instagram page and the one created for her daughter.
Not only are the images cute, but they also come with hilarious captions, and fans are sure Union is the one behind the witty remarks.
Despite being only a few weeks old, Kaavia also seems to have a talent for making the most epic faces. Every one of her pictures has been deemed meme-worthy, and she already has over 200,000 followers on Instagram.
"I'm already getting choked up, it's really hard to let go."
We're sure Union and her NBA player husband, Dwyane Wade, 36, are counting down eagerly to their daughter's first-month birthday.
BABY JOY
Kaavia James Union Wade was born on November 7 via surrogacy, and both parents took to social media the next day to announce their family's newest addition.
"A LOVELY DAY. We are sleepless and delirious but so excited to share that our miracle baby arrived last night via surrogate and 11/7 will forever be etched in our hearts as the most loveliest of all the lovely days. Welcome to the party sweet girl!"
Kaavia is Union and Wade's first child together but they are also parents to Wade's three sons from previous relationships, and one of his nephews.
INFERTILITY STRUGGLES
For so long, the "Being Mary Jane" actress has struggled with infertility, and in her 2017 memoir, she opened up about having "had eight or nine miscarriages" and added:
"For three years, my body has been a prisoner of trying to get pregnant -- I've either been about to go into an IVF cycle, in the middle of an IVF cycle or coming out of an IVF cycle."
TROLLS HARD AT WORK
But even though Kaavia is here now, the 46-year-old Hollywood star confessed that she still can't shake off the fact that she could not experience pregnancy herself.
"I'm already getting choked up, it's really hard to let go," Union said in an emotional interview her family had recently with Oprah Winfrey.
It didn't help that trolls came after her with the most insensitive remarks after she shared the joy of her new baby. "Don't get it, if she didn't gave [sic] birth why she is all dressed up like she was," read one of the mean comments.
Hopefully, Union has been able to put all that behind her now because, in two days, she'll be the mommy of a one-month-old cutie. And we can't wait to see what meme-worthy pic Kaavia has in store to celebrate the milestone with her teeming fans!
Please fill in your e-mail so we can share with you our top stories!