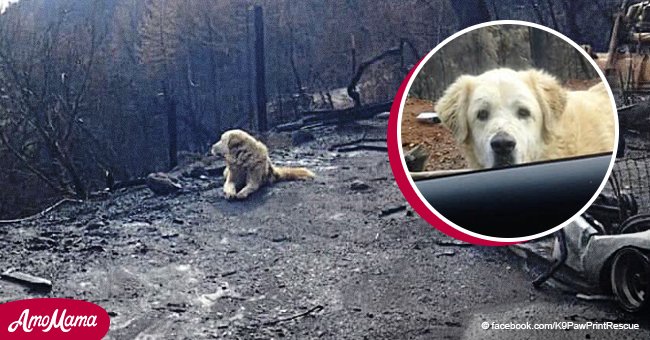 Mournful dog waits at burned house a month after deadly Camp Fire for his owners to return
Dogs are known for their extreme loyalty and affection and Madison, an Anatolian Shepherd, proved just that after surviving a massive wildfire.
The dog was found by the K9 Paw Print Rescue group sitting on what was once his home, in Paradise, California, waiting for his owners to return for him.
The animal rescue group took to its Facebook page to share photos of Madison and announce that he was reunited with his family after nearly a month apart.
Follow us on our Twitter account @amomama_usa to learn more.
Andrea Gaylord, Madison's owner, was forced to leave the dog behind, along with Miguel, another canine companion, when the Camp Fire tore through the neighborhood.
Fortunately, thanks to their instincts, the dogs managed to escape and Shayla Sullivan, an animal rescuer, spotted Madison among the burned trees and house debris.
MADISON NEVER GAVE UP HOPE
But Madison was scared and would run away whenever Sullivan tried to approach him, so she started leaving fresh food and clean water for him every day.
Meanwhile, Madison's brother Miguel was found wandering around Citrus Heights. After being rescued, he proved to be a valuable asset in Madison's own rescue.
THE MUCH ANTECIPATED REUNION
Once Sullivan brought Miguel to the family's property, Madison showed up wagging his tail. The story was shared on the K9 Paw Print Rescue Facebook page and eventually reached Gaylord.
When Gaylor was finally allowed to return to her property, she was reunited with her furry friends, who were more than happy to see her, especially Madison.
THE HORRIFYING AFTERMATH
The story had a happy ending, but many animals, as well as people, are still missing. The Camp Fire was devastating and torched around 240 square miles after its ignition on November 8, 2018.
Over 50,000 people had to be evacuated from Paradise alone and at least 85 people lost their lives to the flames. Several families lost everything they had, managing only to escape with their lives and the clothes they had on at the time.
Please fill in your e-mail so we can share with you our top stories!