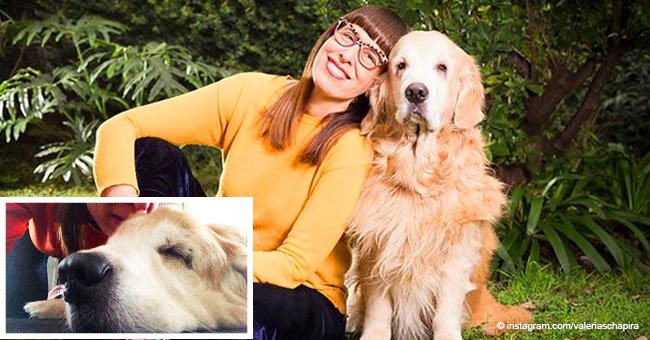 Heartbreaking video of woman singing to her dog as he dies moves the internet

Valeria Schapira, an Argentinean journalist, shared a video showing herself singing to her dog, Joy, just before he passed away due to an aggressive tumor.
In the video, Joy appeared lying on the floor with his eyes closed and breathing heavily while Valeria was behind him singing "Hasta el final," the hit song of Spanish singer David Bisbal.
For the caption, the journalist admitted that a big part of her life passed away with her dog. She revealed that he went through a lot of pain due to a tumor so aggressive that killed him in a matter of days.
"Thanks to everyone who shared their love, prayers, and respect. Thanks to each person who helped us go through these times of uncertainty and pain," finished Valeria.
PEOPLE'S REACTION
As soon as the journalist uploaded that clip, her followers took to the comment section to share their thoughts. One of them admitted that the clip made them cry, while others said that they were sorry for Valeria's loss.
"I'm sorry for your loss. I know how it feels like to lose a dog," wrote one user.
"I'm truly sorry for his passing and I thank you for loving him so much," admitted a second one.
It is evident that people mourn the death of a pet. The truth is that pets also mourn the passing of their owners, and Simbad, an African gray parrot, is the living proof of that remark.
SAYING GOODBYE
He and his owner spent 25 years together. Unfortunately, the lady was very ill, so it was time for her to say goodbye to her trustful companion. Even though parrots are known for being talkative, he was silently resting on the woman's arm and chest as if he knew how critic the situation was.
After a while, the elderly woman told the bird "I love you, baby" a couple of times, while Simbad stared and stayed close to her in an incredible show of unconditional love and companionship.
Not only humans but also animals, including dogs, horses, and birds, can become depressed, something that deeply affects their behavior. In some cases, vets have to prescribe anti-depressants to help them cope with their loss.
Please fill in your e-mail so we can share with you our top stories!