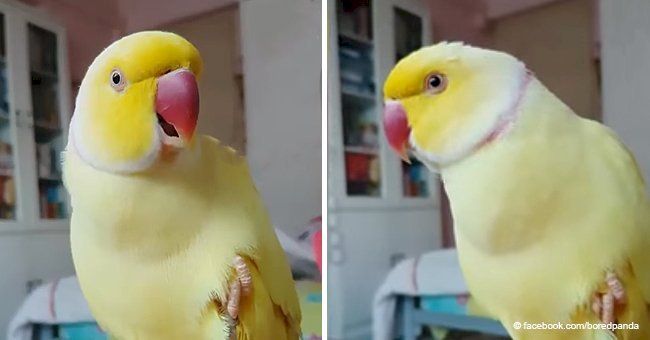 Adorable Yellow Parrot with Identity Crisis Thinks He's a Fruit
Haley is an Indian Ringneck parakeet that learned how to say a new sentence that makes him sound like he is a little confused about what he really is, and it is hilarious.
The adorable episode took place in Singapore, and the parrot's owner caught the entire thing on video. The funny clip was shared on Facebook back in September.
The footage shows the beautiful yellow bird going through her repertoire of phrases, starting by repeatedly saying "Tweet."
Out of the blue, Haley utters the unexpected affirmation "I'm a banana." The animal repeats the sentence a couple of times and goes back to "pretend" he is a bird.
The cute and surreal phrase that his owner obviously taught him to have a good laugh at his pet's expense is the perfect match for the bird's bright color.
Read more on our Twitter account @amomama_usa.
Then he goes on to say "Hi, Haley" and "Hi, Raphael" (probably his owner's name) alternatively, before the video ends with him going "Hi, handsome boy."
Haley's identity crisis has fascinated social media users, and in three weeks it was shared more than 8,000 times. The video has been played more than 536,000 times and has received several comments.
"If you can't be a Unicorn, be a Banana," joked Tim Creller Ellzey. "Definitely not a fan of bananas (make me sick for some reason), but, could be converted with this one though lol," added Wallace Orr.
"Hahaha how cute and funny is he, not to mention intelligent. Wow!! How I love these beautiful creatures."
OTHER ANIMALS WITH IDENTITY CRISES
If you like to watch domestic animals acting confused about what they are, the Internet is full of examples that will crack you up.
Take for instance the owner of this little black dog who dressed his friend as a sheep and found out that the animal was very comfortable in the outfit like it was what he was always meant to be.
Cats have the reputation of being the natural arch-enemies of dogs, but this feline is apparently so close to dogs that he has started to act like one, begging his owner to play fetch.
A female cat named Rosie is even part of her own pack of dogs, and her three Husky friends follow her everywhere she goes, making her feel like one of them.
While most sheep are guided by shepherd dogs, this one feels so much empathy for them that she behaves like a dog. Now she gets to chase them around, and it looks like she is having a great time.
Not much separates horses from their mythological relatives the unicorns, and this horse managed to get as close as he could to look like one of these dreamy creatures.
PRINCESS YELLOW FEATHER
A Yellow Nape Amazon parrot had his '15 minutes of fame' back in 2016 because of his impressive ability to mock the human singing voice. The video of the bird singing two recognizable hits became a viral sensation.
Apart from mocking the voice and learning the lyrics of the song, it is unbelievable how the bird manages to imitate the rhythm, including pauses and hitting most of the right notes as well.
Please fill in your e-mail so we can share with you our top stories!