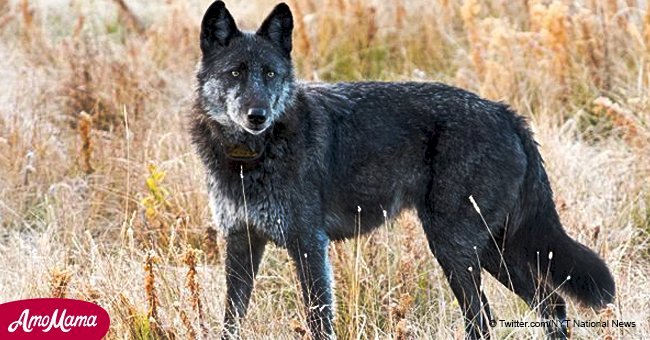 Famous Yellowstone wolf 'Spitfire' killed by a trophy hunter
The hunting of a well known and loved pack member of the Lamar Canyon wolf pack, sparked a repeat on calls for a 'no hunting' buffer between Yellowstone and its invisible border with nearby lands.
Affectionately called Spitfire, the wild wolf captured the hearts of wolf watchers who had the pleasure of observing her in Yellowstone National Park.
Known by the scientific community as 926F, 7-year-old Spitfire was one-time alpha female of the Lamar Canyon Pack, with a rather distinguished bloodline.
Another alpha female, known as 06, inspired the famous book, 'American Wolf: A True Story Of Survival and Obsession in the West.' She too got tragically killed by hunters six years ago, much like Spitfire, but they had much more in common than that, 06 was Spitfire's mother.
Read more on our Twitter account @amomama_usa.
The incident caused outrage among animal lovers across the U.S. and called for authorities to end legal wolf hunting around the area Spitfire got shot. The founder of the Facebook group, 'The 06 Legacy,' Karol Miller commented on the tragic death of Spitfire:
"Everybody's mourning, everybody's thinking about what to do to stop this madness. People love the Lamar Canyon Pack… People love those wolves."
Karol posted an emotional tribute to Spitfire on Facebook when she captioned a beautiful picture of Spitfire running across the snow, with the collar wildlife researchers visible and wrote:
"Here she is running wild and free in the valley of the wolves with her pack nearby. That is how I always want to remember her. I wanted to let everyone in our family take a moment today to celebrate her in all her glory. May you always run wild and free as you always will in our hearts. Godspeed Spitfire."
Since the wolves' reintroduction into Yellowstone National Park in 1990, they became a significant tourist attraction. The park spans 3,500 square miles across the states of Montana, Wyoming, and Idaho.
According to the Montana Fish, Wildlife and Parks Department the hunter shot Spitfire near Cooke City, and it was legal. The department also added that the Lamar Canyon pack had shown signs of 'habituation.'
Hunting inside Yellowstone National Park is illegal. However, Montana permits hunting by bow, trapping, or gun during the shooting season that runs from September until March.
But sometimes animals are in danger of being put in front of the crosshairs of a hunters rifle. Like 3-year-old Mufasa in South Africa, he is a white lion and a rare commodity and got confiscated from a private owner who had no permit to keep him.
The Rustenburg Wildlife Rehabilitation Center took him in and will take care of Mufasa until a permanent solution is found. However, that may include being sold off to the highest bidder. With Mufasa being infertile he has no breeding potential but can fetch a lot of money on the hunting market.
Over 250,000 people signed a petition against the auctioning of Mufasa, as comedian and animal rights campaigner, Ricky Gervais tweeted on the plight of Mufasa and wrote:
"Shame on the pathetic sadist who pays the money to shoot this animal, and shame on the sniveling coward who accepts the money too. Both worthless."
Revenge killing of particularly the larger type of animals, and predators have also left its mark, and it still occurs. Earlier in the year on July 14, 31-year-old Sugito entered a crocodile sanctuary in Sorong, looking for grass from his cattle, during his search he got attacked by a crocodile.
He died from his injuries, but in revenge to Sugito's death, a mob entered the sanctuary and savagely slaughtered 292 crocodiles. Why are things like this allowed to happen?
Please fill in your e-mail so we can share with you our top stories!