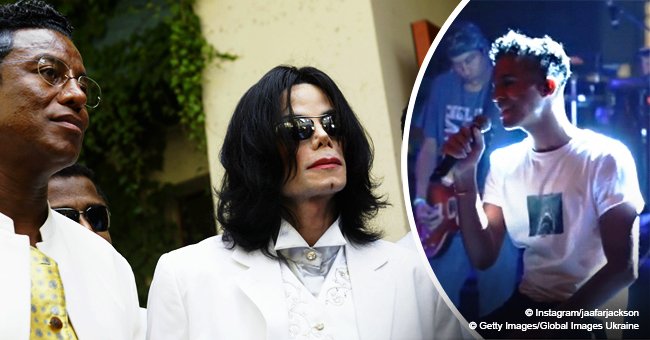 Jermaine Jackson's son Jaafar sounds like his uncle Michael Jackson in rehearsal video

Michael Jackson's nephew sounds so much like him that his latest video singing is mind-blowing.
Michael Jackson may have moved on from this world years ago but his voice apparently lives on in his nephew, Jaafar Jackson.
AN ALL-TOO-FAMILIAR VOICE
It was astounding to listen to Jafaar performing with his father, Jermaine Jackson during the holidays last year because he bore the distinct singing voice of his late uncle. That time, he sang "The Christmas Song" along with brother Jermajesty and it was the first time people noticed how closely his voice resembled the King of Pop's.
More recently, Jafaar featured in a clip where he's singing during a soundcheck and if one's eyes are closed while listening to him, it's as if Michael has come back to life. The small, high-pitched voice is all too familiar that you'd be blown away listening.
CARVING HIS OWN MUSIC PATH
Jafaar is forging a music path and claims to be treading new territory despite traces of his uncle in him. He recently announced that his new album will be released using a new format called "tokenization.' Jafaar explains this during an interview at "The Reveal" event at the Dolby Theater where the new technology was introduced.
"By buying tokens, you become part of that artist. So, a lot of fans will be able to be part of my music. If I had a chance to be part of some of the artists that I grew up listening to, I would love to have done that! This is new and I believe a lot of people will love this.
Eric Tippets, co-founder of NASGO who's behind the technology also known as "blockchain" further explains,
"For an artist like Jaafar, the very biggest appeal is the ability to create a branded token as a means of connection and loyalty with your audience and following. Those who receive tokens can use them for swag VIP seating and the earliest possible access to new music. Without middlemen – such as recording labels – more of the money gets to the artist or athlete and it gets there faster, in time to allow the artist to develop more material and to do it with the crowdsourced support of the audience that wants to buy and receive it."
Jafaar is very excited about the new technology and hopes fans will appreciate it too.
A FUTURE STEPMOTHER CLOSER TO HIS AGE
Meanwhile, Jafaar's father is equally excited about his new girlfriend who's young enough to be his daughter or grandchild. Maday Velazqueza is a 23-year-old Cuban who's dating Jermaine who's 62. The couple is reportedly engaged after an announcement was made in Mallorca, Spain during the Jackson family's 50th anniversary concert tour. No wedding date has been revealed but plans are reportedly in motion.
Should Jermaine marry Maday, she'd be more like a stepsister than a stepmother to 22-year-old Jafaar. The one-year-age gap is quite puzzling but nothing shocks us anymore when it comes to the Jacksons.
Please fill in your e-mail so we can share with you our top stories!