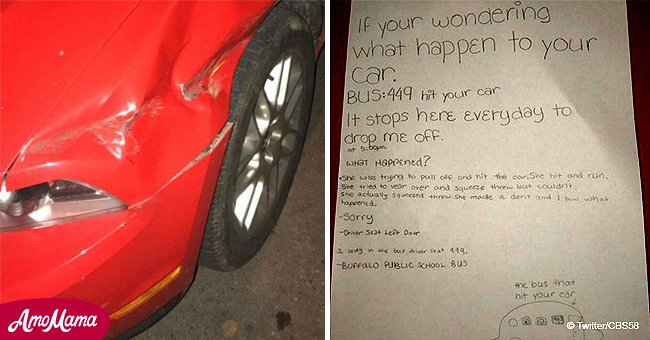 11-year-old left note on windshield to help restore justice

A sixth grader's concern for justice and her artistry made her make headlines when she helped a man track down the person who made a dent in his car an ran away without taking responsibility.
11-year-old Ziarra Griffin proved that it is never too early to be a Good Samaritan, and she might have taught an adult a lesson about being responsible for one's acts while at the same time inspiring us all to be better citizens.
Thanks to Griffin's intervention, in the form of an anonymous note left in the damaged car, the owner of the Ford Mustang hit by the school bus that dropped her off, Buffalo's college student Andrew Sipowicz saved a lot of money.
Sipowicz, a Canisius College senior, was lucky to have Griffin acting as a witness to hold the bus driver accountable for the hit-and-run, and his car is getting fixed. Read more on our Twitter account @amomama_usa
"If you're wondering what happened to your car, bus 449 hit your car. It stops here every day to drop me off. She hit and run. Sorry," Sipowicz read in the note he found tucked under his windshield after he returned to his car to find it indented.
"It was bashed in pretty good. Then I saw the note. I wasn't expecting that at all, that it came from a sixth-grader," Sipowicz told CBS News on December 7.
Not only Griffin's note helped Sipowicz get justice done for the incident, but it also lightened his day with her letter, which also included a drawing she made of the school bus in question.

Source: Twitter/@Andrew_Sipowicz
Sipowicz was so amused by the helpful note he received by a then mysterious young person who signed only as "a 6th grader at Houghten Academy," that he took to Twitter to share the note and thank this good doer openly.
"Shoutout to the anonymous 6th grader for saving me a couple thousand," Sipowicz captioned a picture of the note and the dent in his car. "(Bus not drawn to scale)," he jokingly added on November 20.
"I could have acted like it didn't happen, but I chose to do something about it because my mom always said, 'When you see somebody doing the wrong thing, you have to do the right thing," Griffin said later.

Source: Twitter/@Andrew_Sipowicz
But her mother Tocarra immediately jumped in to clarify that she doesn't want to take any credit for Ziarra's honorable act, even admitted that she wasn't so supportive of her daughter's decision to leave the note.
"I don't want anyone to think it was me. My daughter taught me how to stay kind, stay compassionate, always knowing the right thing is always the right thing," Tocarra said.
Sipowicz knew that the child who did something so kind for a complete stranger like he was to her had to be very special, and he used social media to eventually identify Ziarra and arranging a meeting with her.
Thanks to the viral status achieved by his original tweet showing Ziarra's note, Sipowicz managed to track her down to thank her for doing the right thing.
"I couldn't believe you left me that note. When I first saw my car, I was angry and then I saw your note and it changed my entire mood," Sipowicz told Ziarra once he was in front of her.
"To know that there are people out there with that kind of integrity and honesty, it's something I'm going to remember for the rest of my life," he added.
Every random act of kindness we learn of, among the thousands if not millions of other similar acts that go unnoticed and don't make it to the news, give us hope about the future of humanity, and we don't want our readers to miss them.
This story reminded us of the experience 20-year-old Hunter Shamatt had when he lost his wallet on a plane to Las Vegas with $60 in cash and $400 paycheck, among other important documents and belongings.
After Shamatt contacted the airline and they told him there was nothing they could do about it, he lost every hope of finding his wallet, and least of all recovering his money.
But he was surprised in the most positive way when he came home to find that an anonymous hero had mailed his wallet back to him, with every item in place with an additional $40 and a very friendly note.
Please fill in your e-mail so we can share with you our top stories!