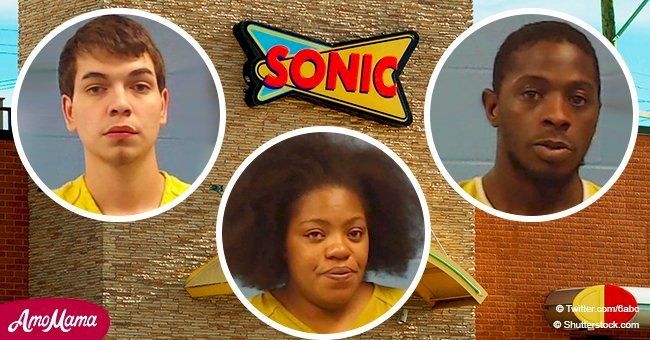 Fast food employees arrested after ecstasy pill found in a kid's meal
A family, unfortunately, got more than their money's worth when they passed through the Sonic Drive-In in Texas recently which led to the arrest of three employees.
On December 6, an 11-year-old girl made a shocking discovery when she unwrapped her 4-year-old brother's hamburger for him.
At first, puzzled by the discovery, the girl showed it to her parents, asking them if it was candy. Her parents took one look at the pill and decided to take the meal and the tablet to the local police station.
Testing of the pill for substances Taylor police found it to be MDMA, also known as ecstasy. Police officers then went to the Sonic Drive-In where employees, Jose Molina, 22, Jonathan Roberson, 35, and manager Tanisha Dancer, 30, got arrested on a whole range of charges.
Read more on our Twitter account @amomama_usa.
The pills that Tanisha got found in possession of while being searched at the Williamson County Jail were strikingly similar to the one found in the little boy's hamburger. Her initial arrest was for an outstanding felony larceny warrant that came from Guadalupe County.
Tanisha got arrested for being found in possession of a controlled substance after they found three ecstasy pills on her. In the meantime, Tanisha got fired from her job as manager and extra charges of delivering a controlled substance and child endangerment got added to her growing list of charges.
According to online jail records, Roberson got arrested on outstanding warrants including driving without a license, theft, and marijuana possession.
While Molina's only charge was being in possession of marijuana. Whether any of the three have retained attorneys or entered pleas is unclear.
As well as saying that the particular store was owned and operated by an independent franchisee, a spokesperson for Sonic also added in a statement:
"The franchisee takes guest safety and food safety very seriously. Local police are investigating this incident, and the franchisee is cooperating with police in their investigation. Each franchise organization is an independent employer and thus responsible for its own employment-related policies, practices, and decisions. The franchisee has terminated three employees in connection with this incident."
Molina got released on a $1,500 bond, while Roberson is being held in lieu of $29,000 bail. Tanisha has an additional bond of $2,500 for an outstanding larceny charge and the main one in lieu of $37,500.
This year, authorities warned parents to check their children's Halloween candy, as reports showed some to be laced with class A drugs, or for loose ecstasy pills to be among candy.
Amy Dixon, from Shiremoor, took to Facebook and urged parents to look through their children's candy after she found an envelope full of ecstasy pills among her children's trick or treating candy.
The DEA also repeated their warning of last year for parents to be vigilant about what candy their children are getting. A 5-year-old boy got admitted after a sudden onset of seizures after eating candy that contained with methamphetamines.
Special agent William J. Callahan elaborated:
"Halloween is a time for kids to be kids and have fun with family and friends. We don't want anyone falling prey to an avoidable tragedy. Please check your candy closely. If you come across any suspicious treats that have unusual wrapping or misspelled candy labels, give it to your local police department."
What is going on when we have to check our toddler's fast food for methamphetamines and our Halloween candy because it may contain a drug that could end an innocent child's life.
Please fill in your e-mail so we can share with you our top stories!