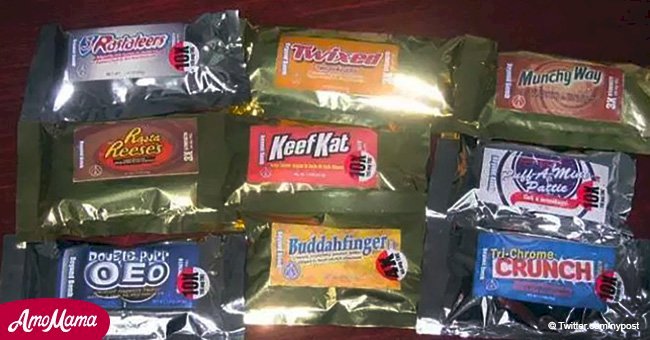 DEA warns about Halloween candy laced with meth or marijuana
A five-year-old boy tests positive for methamphetamines after being admitted to hospital for a sudden onset of seizures after eating Halloween candy.
The DEA repeats last years warning by urging parents to check their children's Halloween trick or treat candies from Saturday night. Police have collected all the candy 5-year-old Braylen Carwell received that night and sent it to the Mansfield Police Department's crime lab for testing.
In 2017, the DEA found candies laced with marijuana sold in packaging similar in color and name to popular regular candies, including names like, twixed, Munchy Way, 3 Rastateers, Keef Kat and Rasta Reese's.
Read more on our Twitter account @amomama_usa.
The police said Braylen's candy is the only reported case. Galion Police Chief Brian Saterfield said:
"Right now, there's nothing specific. We need to narrow it down to see if there was, in fact, something that was tainted."
The special agent in charge William J. Callahan also responded:
"Halloween is a time for kids to be kids and have fun with family and friends. We don't want anyone falling prey to an avoidable tragedy. Please check your candy closely. If you come across any suspicious treats that have unusual wrapping or misspelled candy labels, give it to your local police department."
The DEA is sending out another warning, the public should beware of criminals posing as various kinds of law enforcement personnel as part of an international scheme of extortion.
The impersonators contact known drug offenders and identify themselves as a special agent from a law enforcement agency, who then tells the offenders to pay a fine or action will be taken against them.
If a call is received by anyone from a person who says they are the DEA or other law enforcement agency seeking money should refuse and report them immediately. Using the online form found here works best and will assist the DEA in their investigation.
'The Mule,' a movie based on real-life events regarding a drug trafficker Leo Sharp, and DEA agent Colin Bates' determination to catch him, has its much-anticipated release close to the end of the year.
88-year-old Clint Eastwood portrays the drug trafficker, while the DEA agent is played by Bradley Cooper. The movie trailer is out however the motion picture will only come to our screens on December 14.
Please fill in your e-mail so we can share with you our top stories!