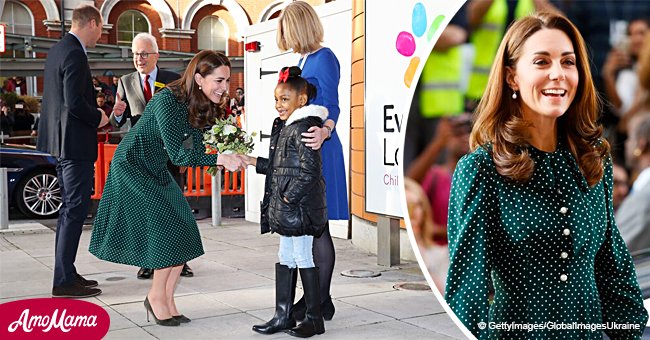 Kate Middleton receives flowers from girl with anemia, and her reaction is cuteness overload
A tiny patient at a children's hospital gave the Duchess Kate a right Royal greeting.
The Duchess of Cambridge has been named the patron of Evelina London Children's Hospital.
The announcement was made by officials during a visit to the Hospital by Duchess Kate and Prince William on December 11, 2018, reported Popsugar.com.
A SPECIAL GREETING FROM A TINY PATIENT
The Dukes were welcomed by the staff and patients, and in the front row was 6-year-old Tiana Yales.
Tiana, who suffers from sickle-cell anemia, was chosen to present Duchess Kate with a bouquet and handled her duties like a pro. As she handed the Duchess her flowers she even curtsied.
The mother of 3 looked as lovely as ever in a dark green polka dot dress with a pretty pussy-cat bow.
A HOSPITAL THAT SUPPORTS CHILDREN AND FAMILIES
Evelina London Children's Hospital cares for children, from newborns to adolescence, both in and outside the hospital. It has an outreach program to provide care for its patients in their own home, surrounded by their families.
HELPING CHILDREN WITH RARE DISEASES
Evelina's will be counting on Duchess Kate to raise awareness concerning the plight of so many children like Tiana who battle with rare diseases, and the doctors and nurses who strive to help them.
Tiana and all her little friends at Evelina London Children Hospital gave the Duchess a warm welcome, and she was introduced to many of the tiny patients.
The mother of 3 looked as lovely as ever in a dark green polka dot dress with a pretty pussy-cat bow. She accessorized with elegant olive green pumps, and wore her brown locks loose and tumbling over her shoulders.
PRINCE WILLIAM TEASED DUCHESS KATE ABOUT HER GREEN JACKET
Duchess Kate wore a similar shade of green on her visit to Cyprus. The Dukes of Cambridge were on the island on an official visit to extend the Royal Family's Season's Greetings to military personnel station at the RAF base.
The Royals met the service members and their families and delivered messages and parcels from their families in the UK.
As they posed in front of a Christmas tree, Prince William couldn't resist teasing his wife about her outfit.
"My wife's camouflaged against the tree."
Kate confided in one of the servicemen that Prince Louis is learning to wave and that Prince George has requested a photo of an RAF helicopter as a souvenir from Cyprus.
In a related story, The Duchess Kate of Cambridge channeled Duchess Meghan in a stylish pantsuit during a visit to the Royal Air Force Akrotiri in Cyprus.
Please fill in your e-mail so we can share with you our top stories!