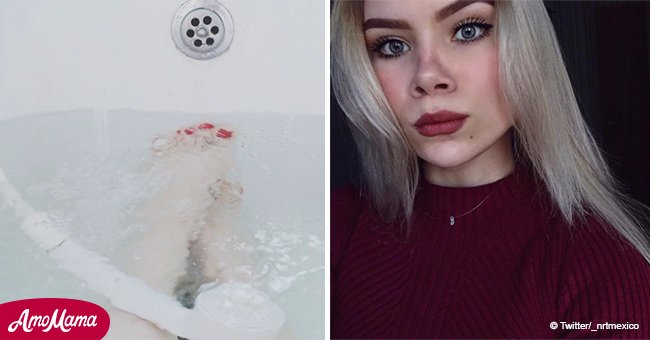 Teenager found dead in the water after taking a bath with her iPhone on charge

A charging iPhone fell into the bath and caused the death of a 15-year-old girl.
A young girl was killed when her charging iPhone fell into her bath, electrocuting her.
Irina Rybnikova, 15, was taking a bath, and using a cable to charge her phone when the tragic accident happened, reported The Sun on December 11, 2018.
"A tragic accident has taken the life of our champion, friend, mate and student Irina Rybnikova, 15. She was a candidate for Master of Sports in pankration, our beloved girl. Rest in peace".
A DEADLY ACCIDENT WITH AN IPHONE
Irina, who been selected for Russia's national martial arts team, was found dead in her bath. The teen was described as a beautiful and loving girl, who had many friends and dreamed of being a pankration world champion.
Pankration is an ancient Greek Olympic sport combining boxing and wrestling techniques, and incorporating kicks and holds locks and chokes.
Someone who would never touch a hairdryer while in the bath, will unthinkingly answer a charging phone.
RUSSIAN AUTHORITIES HAD ISSUES WARNING ABOUT CELL PHONES IN BATHROOMS
Russian officials have previously issued a warning alerting people to the dangers of using mobile phone chargers in bathrooms. In February 2018, a similar accident claimed the life of a 12-year-old Russian school girl. Kseniya P was reportedly listening to music in the bath when her charging smartphone fell into the water.
Authorities point out that people forget that a cell phone is an electric appliance. Someone who would never touch a hairdryer while in the bath, will unthinkingly answer a charging phone. The result can be deadly.
A 14-YEAR-OLD TEXAS GIRL WAS ELECTROCUTED BY HER CELL PHONE
A teen died tragically in New Mexico when just like Irina, she was charging her cell phone while in the bath.
According to her family, 14-year-old Madison Coe was in the habit of running a bath before bed. She was listening to music on her phone and had connected it to an extension to charge.
Ironically, Madison sent a friend a photo of her phone connected to the power cord, and carefully laid out on a towel to keep it dry with the following message:
"When you use (an) extension cord so you can plug your phone in while you're in the bath."
Lovington Police spokesman David Miranda concluded that the photo might have been taken an hour before her death. Police investigators discovered that the cell phone had not fallen into the bath, nor had the extension cord ever touched the water.
Unbeknownst to Madison, the extension cord was frayed, and the young girl was electrocuted when she touched it with her wet hand. Madison's family is working to spread awareness of this deadly danger and hopefully save the lives of many children."
In a related story, iPhone apps are helping Police to convict murderers by providing proof of their movements.
Please fill in your e-mail so we can share with you our top stories!