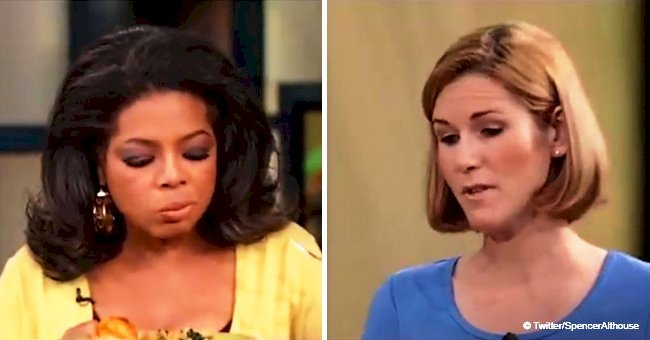 Oprah's reaction to woman's unseasoned $1M chicken recipe in throwback video just went viral again
Oprah has given the internet lots of laughing material with her sassiness and hilarious facial expressions for years, but an old clip from her reaction after trying an unseasoned chicken is making the rounds on social media again, and the material is still gold.
Back in 2006, Oprah was already at the prime of her career, changing lives with "The Oprah Winfrey Show" and creating some of the most in-depth interviews with celebrities, politicians and any other relevant figures to the country, and giving people quality entertainment in general.
But she also had her moments to shade her guests, and one particular instance that fans can't forget has resurfaced thanks to Twitter.
Back then, Anna Ginsberg's chicken and spinach stuffing won the million dollar prize at the Pillsbury Bake-Off, and Oprah was so curious about how a chicken dish could be worth $1 million that she invited Ginsberg to the show to taste it herself.
However, things didn't go as planned. In the clip, that is now viral, Oprah is seen tasting the freshly baked chicken as Ginsberg and the audience watch expectantly. "Do you like it? Please say yes," Anna says, as Oprah's facial expression can't hide her distaste.
But always the diplomat, Oprah tries her best to pretend she likes the dish. "I, I, I, I do...like it. I like it very much," she says unconvincingly. "I think, did we add salt and pepper? I think we needed salt and pepper," she concludes.
Ginsberg then says "No, there's no salt and pepper in it, but you can add it yourself."
"I think it's delicious, is what it really is," Oprah states.
Now, people back then didn't buy Oprah's words, and now that a new generation is watching the clip, social media users are way less polite about it, making fun of the woman for daring to present Oprah Winfrey with an unseasoned chicken on live television.
Read some of the reactions below:
On the entire clip of the incident, Ginsberg got to cook her dish at the studio, and she actually says at one point that her chicken had a pinch of salt and pepper, so, recalling one of Oprah's most famous memes:
Either way, whether Oprah liked it or not, Ginsberg won 1 million dollars with her bland chicken, and all the jabs from social media users cannot change that.
You can find the Chicken and spinach stuffing here.
Please fill in your e-mail so we can share with you our top stories!