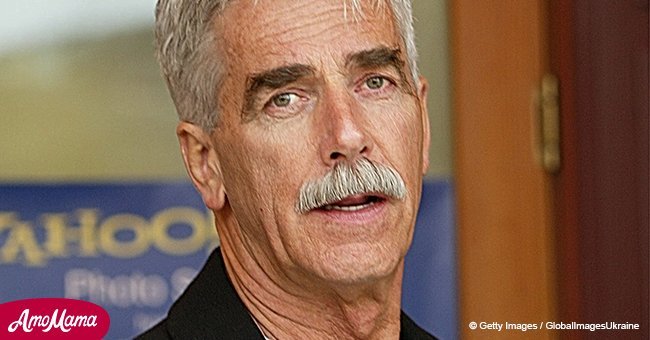 Sam Elliott's famous naked scene still amazes a lot of fans
"The Legacy" star is still known today for his voice, amazing looks, and signature mustache, and has continued to act as he's aged gracefully.
74-year-old actor Sam Elliott appeared naked in a scene in the 1978 movie. The shower scene is still talked about, with Elliott's naked buttocks on full display as he walked into the bathroom.
Elliott is known to detest any tags associated with him, but his sex-symbol status has stuck with him throughout. In the meantime, his low growl of a voice was put to use in several voiceovers and commercials, including the American Beef Council advertisement.
Read more on our Twitter account, @amomama_usa.
Elliott took acting lessons in Los Angeles while working in construction. He landed a few supporting roles in "Felony Squad," "Butch Cassidy," "The Sundance Kid," and "The Games."
While his role was popular in the movie "Frog," it was the 1978 movie, "The Legacy," that made him a household name in the United States and beyond.
The movie was also significant for him as the leading lady, Katharine Ross, was completely smitten with him. The two eventually married in 1984.
Elliott and Ross played a young couple, Pete Danner and Margaret Walsh, who travel to England with the promise of a lucrative job for Walsh.
The highlight of the movie was the scene in which Elliott appeared completely nude from behind, with female fans going weak at the knees over the glimpse of his tight behind.
The scene, which has been trimmed for network and cable airings, emphasized his well-toned physique. It was not the first time the actor had his female fans swooning.
He had previously appeared in nothing but a towel in a Japanese bathhouse scene in the Olympics film, "The Games."
Another movie that had him display his extremely fit body was the movie "Lifeguard" in 1976. Elliott played an aging lifeguard devoted to his profession.
Appearing on the cover of Teen Beat magazine, he had an interesting image throughout his career. He was often seen in projects based on the west or had a military background.
Though he is now in his early 70's, he continues to work steadily. Even to this day, Elliott remains a sex symbol for many of his fans.
More recently, the actor has played long-standing roles in "Parks & Recreation" and "The Ranch."
Elliott and Ross are still married and share a daughter, 34-year-old Cleo Rose. When they started their family, Ross gave up her acting career to be a mother.
Please fill in your e-mail so we can share with you our top stories!