Heartwarming photo of 9-month-old baby happily sitting in a purse went viral in 2018
Nine-month-old Lamar Jr. became an internet sensation in 2018 after photos of him in a purse went viral.
Iliana Elias, a 21-year-old mom and restaurant manager, took to Twitter last August to share the results of her brother babysitting her son.
In the viral photo that now has over 140,000 retweets and likes combined, Lamar Jr, aka LJ, is seen smiling even though he's in a Louis Vuitton bag. The mischievous "babysitter" also draped a burgundy scarf over the large purse.
Iliana captioned the post:
"This is what happens when I ask my little brother to keep an eye on my son."
Good morning everyone 😍 pic.twitter.com/snun7KrQRD

— Iliana Elias (@__Ily4) October 5, 2018
Twitter users could not get over the cuteness of the photo, and they shared their reactions with some heartwarming comments.
"
Your
baby's smile is so pure & lovely. What a gorgeous boy.""
Your
son is the cutest!!! Look at that cute little face. Those eyes, that smile. Too cute.""
This
picture would make me so happy, your brother just changed the game. He's a beautiful baby!"
Before & After pic.twitter.com/q7Ugp0sekx

— Iliana Elias (@__Ily4) November 1, 2018
Iliana spoke to Yahoo Lifestyle and explained how her son ended up in the bag. "My 16-year-old brother Zion was watching LJ while I got ready for work, and I walked in the room, and he was carrying him in my purse," said the Chicago-based mom. "He figured LJ would fit in there."
Tarifa, Spain with my road dog pic.twitter.com/uDuDbmwCIE

— Iliana Elias (@__Ily4) July 17, 2018
Iliana also shared that LJ is always giggling. She added:
"Right now, he's in a curious phase and copies everything we do -- and he's learning how to kiss."
The attention from the photo had the young mom and her boyfriend, who is also LJ's father, considering a baby modeling career for their son.
This is what happens when I ask my little brother to keep an eye on my son 🤦🏽‍♀️😂 pic.twitter.com/mOKs9UOxqM

— Iliana Elias (@__Ily4) August 6, 2018
HALLELUJAH REACTION
Yahtai is another baby who won the internet in 2018 because of her unique reaction to the word "Hallelujah!" In a video captured by Yahtai's mom, the little girl is jumping on her father's lap, but immediately he says the word, she lies flat on his chest and pretends to be sleeping.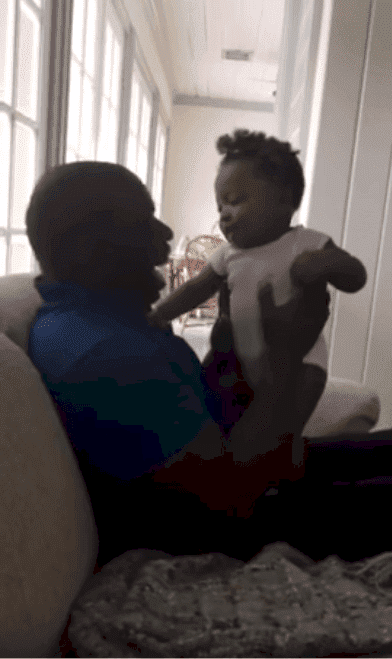 Her father, Christopher, said their family reads the Bible and prays every night, and it was on one of those occasions that they noticed their daughter's hilarious reaction.
Read up on more of that story and see the adorable video here.