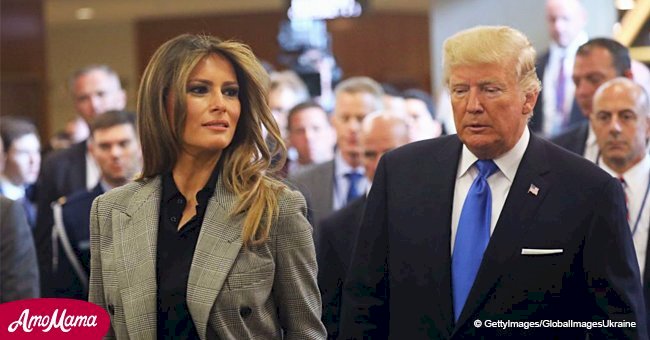 Trump's family reportedly won't exchange Christmas gifts despite following festive traditions
The First Lady of the US revealed the reason she won't be giving any gifts to her husband for the Christmas season.
According to Hollywood Life, a source close to Melania Trump stated that it is difficult for the First Lady to find any gift for a person who has almost everything. So, eventually, it has become a tradition among the couple to not share any gifts at all.
"Melania says he's next to impossible to buy for and often they don't exchange gifts at all for Christmas," the source close to Melania told Hollywood Life.
Despite not being involved in an exchange of gifts, the couple will be celebrating the festive season with their family members as Melania is "big on traditions."
Follow us on Twitter to learn more.
The Trumps will be gathering at Mar-a-Largo for Christmas, as they do every other season. All of Donald's children and grandchildren along with Melania's parents will be participating in the Christmas celebration.
As is their tradition, Donald and Melania are scheduled to go to midnight mass as well. Melania believes it to be a perfect start to Christmas.
For the holiday period, the First Lady has also worked with the kitchen staff to come up with a healthy but tasty menu for dinner.
She also gave Americans a sneak peek of the decorations ongoing at the White House under her supervision as is the tradition.
Last year during the holiday period, Melania opened up about her opinion on giving Christmas gifts during a Toys for Tots event at Joint Base Anacostia-Bolling, where she continued on yet another holiday tradition of visiting the military families.
Melania opined that Christmas season is "not about gifts" but rather about "family, service, and gratitude." She stressed that we must always strive to look out for one another and help each other.
In the event, she also reflected on her first year as the First Lady and admitted that she had the opportunity of witnessing the spirit and resilience of the American people during her tenure.
She then encouraged everyone to recognize such spirit in themselves and to give back to the society through programs such as Toys for Tots.
Please fill in your e-mail so we can share with you our top stories!