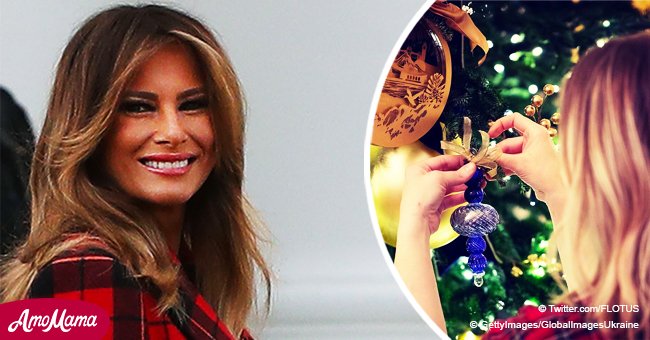 Melania Trump reveals White House Christmas decorations, and they look like a shining miracle
On Saturday, First Lady Melania Trump gave Americans a sneak peek into the progress of the decorations at the White House. She posted a couple of images on Twitter.
In her post, she revealed that the decorating was being done by volunteers. They were expected to finish by Sunday.
One image that First Lady Melania Trump posted online was of a volunteer placing Christmas lights around a doorway. Another photo showed a woman attaching ornaments on a Christmas tree.
Melania's tweet read:
"'Thank you to all the volunteers from across our great nation who are working hard to decorate the @whitehouse. Can't wait to view it all tomorrow night! #ChristmasattheWhiteHouse"
For more on this story go to our Twitter account @amomama_usa. Last week Monday, the first lady and her husband, President Donald Trump received the White House Christmas tree.
While a band played Christmas carols, the couple walked around the fir tree to inspect it. The Christmas tree was then placed in the Blue Room where it would be displayed.
The Trumps welcomed the19½-foot tall Fraser fir which came from a farm owned by Larry Smith of Newland, North Carolina. The tree was delivered to the White House on a green wagon which was pulled by a pair of horses.
For their viewing, the president and the first lady held hands as the press and some locals looked on. At one point the president was seen patting the rear end of one of the horses.
The large Christmas tree took the space of a massive chandelier that hangs in the oval-shaped room. The tree was also trimmed and anchored to the ceiling for stability.
The following day, Donald pardoned the National Thanksgiving Turkey ahead of the family holiday. Two turkeys named Peas and Carrots were pardoned by the president.
For Thanksgiving, Melania chose to wear a Dolce & Gabbana dress for a family dinner at the Mar-a-Lago estate in Palm Beach, Florida. She stuck to the label despite the designers facing some major backlash.
The fashion brand is in hot water after releasing an advert campaign in China which featured racist stereotyping.
Please fill in your e-mail so we can share with you our top stories!