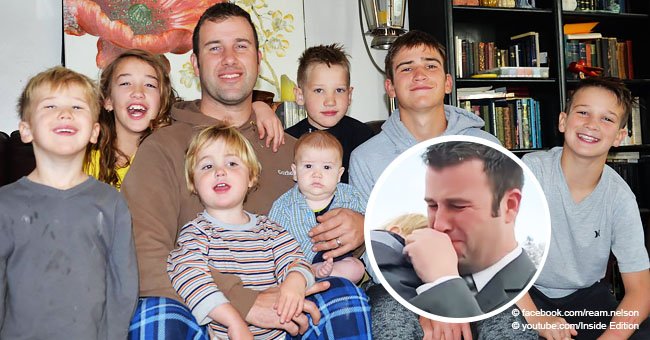 Widower with 7 kids left sobbing when stranger gives them an early Christmas present
A hardworking father of seven who lost his wife last September was left speechless and in tears after receiving a special "Secret Santa" gift of $10,000.
Dakota Nelson is working three part-time jobs, including one as a Latter-day Saints Seminary teacher at North Fremont High School so that he can provide for his seven children, aged 1 to 16, after the sudden passing on his wife, Ream, a few months ago.
Despite his loss, the hardworking father has kept his head high in order to lift up his family, but when he received an unexpected visit from the "Secret Santa" team at East Idaho News, Nelson couldn't contain his emotions as he broke in tears with the incredible surprise they had for him.
"I had not realized how much one can be happy even when the light is out, and it is dark. Thank you for being that light."
According to the news site, a Secret Santa asked them to help him give away $250,000 this holiday season. They have been getting nominations from family and friends of people in need, and surprising people with money, cars, gift cards, and furniture, depending on their needs.
As Dakota and some of his kids were leaving school, a camera crew approached him to explain the situation, giving him a gift box that his kids opened. Inside, there were $1000 in Walmart gift cards, another $1000 in gift cards for grocery shopping, and a check for $8000.
Nelson was speechless and immediately started to cry upon realizing that a great blessing he received thanks to the random act of kindness.
REAM'S PASSING
According to young father, he and his wife were working in their garage back in July when he left to put some tools away. Five minutes later, he returned to find his wife on the floor with her eyes wide open but unresponsive, as their 3-year-old son watched over her.
Dakota tried to apply CPR, while his 12-year-old called 911 and distracted the rest of the kids. By the time Ream reached the Eastern Idaho Regional Medical Center in Idaho Falls, her brain had been without oxygen for 20 minutes.
She suffered an inexplicable brain hemorrhage that caused irreparable brain damage. Ream slipped into a coma and passed away on September 30 surrounded by her family. She was 38.
DAKOTA'S LETTER TO SECRET SANTA
After his story went viral, earning 1.5 million views on Facebook, Dakota finally found the words to thank the Secret Santa for his kind gesture. He sent a letter to East Idaho News that read:
"There is no way for me to accurately convey how grateful we are for this kindness. As I was surprised with the gifts, I looked at my kids – who will remember this event forever as the best time they had in a hard time. Thank you for being an example to my family on how to look out for the needs of others."
And added:
"I know no one makes it through life without some sort of event that is strenuous to the soul, but I had not realized how much one can be happy even when the light is out, and it is dark. Thank you for being that light."
He also added two short thank you notes from his eldest sons, Micaiah, 12, who said "this will probably be my best Christmas ever," and Ammon, 16, who stated "Thank you so much. I can not even begin to tell you how grateful my family is."
Dakota said he would put the money to good use and is teaching his kids a lesson about giving to the less fortunate even in the darkest of times.
Please fill in your e-mail so we can share with you our top stories!