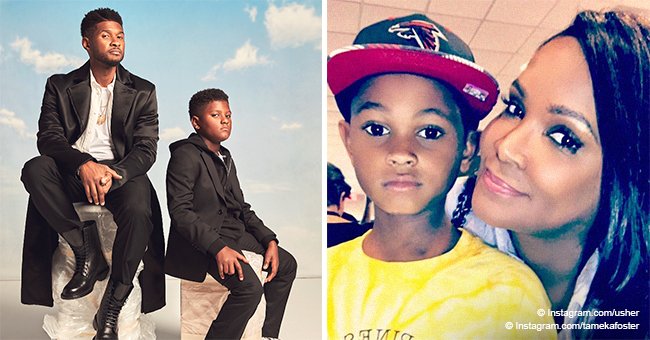 Usher and ex Tameka Foster celebrate their two sons' birthdays in recent photos
Usher Raymond reunited with his ex-girlfriend Tameka Foster to celebrate yet another year of life for their two sons' birthday just a couple of days ago. The happy family shared photos from their simple get together, proving that they can still raise their children in a normal set up despite their separation.
On December 10, Monday, Naviyd turned ten years old, and Usher couldn't help but gush about him on social media. Greeting his son, whom he says reminds him of himself, he says:
"Happy Birthday, Naviyd. One thing everybody looks for, everybody can appreciate, and everybody needs from time to time. You are that for me, and then some. You remind me so much of myself, within that phase of my life. Where I wanted everybody to be happy.You can't make everybody happy, but what you can do is be happy yourself. No matter what it may look like….you can always make it better with your intentions."
Their eldest son, Usher V, celebrated his 11th birthday back in November, where he, too, shared a sweet message for him. On his Instagram post, he shared what it was like when he was eleven, and how he wishes for his son to find his passion.
"I can remember when I turned 11 (forever ago). It was the beginning of me understanding that I had begun to grow up and that I needed to care about somethin'… Bad breath, hygiene, the use of deodorant, a career, other people, how I treated them, and what mattered…at least to me."
Of course, Tameka Foster also made sure to greet her sons, sharing all their good qualities on her Instagram post.
"Ush you are resilient and strong. Been through a lot as a kid and living with Type 1 diabetes like a champ! Such a sharp, funny, analytical, extremely generous boy. I'm so proud of who you are."
Now, the adorable family shared some snaps of themselves enjoying Naviyd's birthday through a simple family photoshoot, where they all posed alongside each other. Clearly, they all know how to have a good time and this reflects in the way they spend time together.
What makes everything much better is the fact that Usher and Tameka have set aside their differences to keep their children happy, and to make sure that they are brought up in the best way possible.
Please fill in your e-mail so we can share with you our top stories!