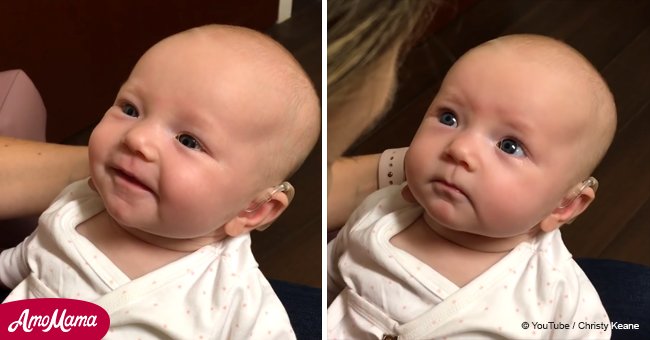 Deaf baby has the cutest reaction after hearing mother's 'I love you' for the first time
Little Charlotte's face lit up the moment she first heard her mother's voice. When the mother said "I love you," the sweet little infant welled up.
With over 13 million views, the video baby Charlotte trying out hearing aids for the first time took the internet by storm when it was uploaded in 2017.
Christy Keane gave birth to little Charlotte in August 2017. At the time, she already had another daughter, two-year-old Cameron. They were delighted to have Charlotte, but they soon found out she was born deaf.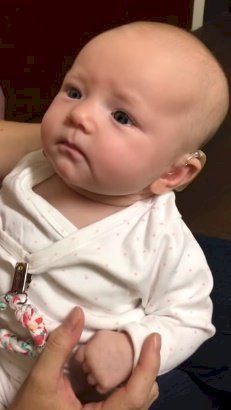 Source: YouTube/ Christy Keane
Follow us on Twitter at AmoMama USA for more details and updates.
Since then, Keane and her husband dived into research and looked for ways for their daughter to have a normal life. Imagine how hopeful they felt on the day baby Charlotte received her first hearing aid.
Keane decided to record the momentous event when Charlotte's hearing aid was put on her air. The sweet mother held her baby on her lap and started talking to Little Charlotte.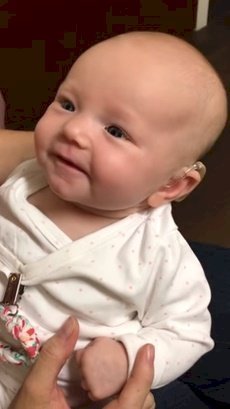 Source: YouTube/ Christy Keane
In the video, the baby's sweet reaction stole the hearts of viewers after she heard Keane say "Hi." Little Charlotte's face instantly
lit up
as she processed the sound she heard.
It got even sweeter when Keane said: "I love you." The adorable baby must have felt so loved that she started welling up. Both the baby and the mother were emotional in the video. It was a special moment only the two of them shared.
Meanwhile, from the start, Keane and her husband wondered about Charlotte's condition since none of them has a history of hearing loss in the family.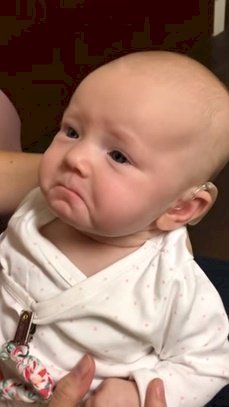 Source: YouTube/ Christy Keane
Keane wrote on Instagram, "She never heard me tell her how much I prayed for her when she was in my belly, she never heard me welcome her in to the world, she's never heard me sing her to sleep – and the hardest to handle – she's never heard me say 'I love you.'"
Still, like any loving parents, they treated little Charlotte with extra care and compassion.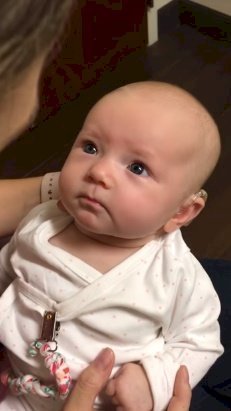 Source: YouTube/ Christy Keane
When they found out that Charlotte could have a hearing aid, the couple was on board. At the time, Charlotte was still too young to have cochlear implants, which meant they had to settle for hearing aids temporarily.
On Instagram, Keane explained that the hearing aids "will not make her hear but will get her brain and auditory nerve used to vibrations and stimulation as we wait to undergo surgery for cochlear implants (in about a year)."
Perhaps by this time, little Charlotte has already undergone surgery and has been living a happier life.
In another viral video, a baby boy tried on glasses for the first time. He was scared at first. But when he realized that his vision was clearer, he was in awe.
He focused his attention on his parents, and he flashed a big smile when he saw them clearly.
Please fill in your e-mail so we can share with you our top stories!