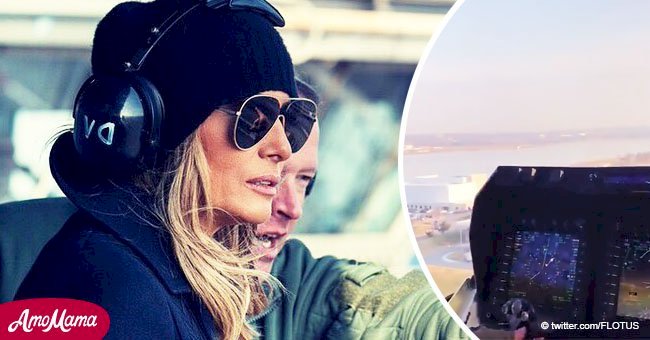 Melania Trump makes a historic flight in a military aircraft sharing a video from the cockpit
Melania Trump became the first First Lady to fly in a certain military aircraft on Wednesday. She shared the unique experience on social media.
On the last leg of her busy week of events, Trump went to see military families where she high-fived kids and asked them what they wanted for Christmas.
She was also treated to a ride on a military plane called the V-22 Osprey. The warcraft toured over Virginia and the Atlantic Ocean. On Twitter, the first lady shared a clip of her view from above. It is found below.
Follow us on Twitter for more @amomama.
According to CNN, Trump is the only first lady to enter the aircraft. Her predecessors have traditionally boarded the Marine One alongside their husbands.
The 48-year-old was flown from Joint Base Anacostia-Bolling in Washington to Joint Base Langley-Eustis in Hampton Virginia and back.
The tour wrapped up her five-hour day of events which included a meet-and-greet among military families in Virginia.
There, the first lady gave an appreciation speech to servicemembers numbering about 600. She shared the age of the base as being "more than 100 years old" and having a "long history of excellence."
She said:
"I also learned that the airmen and soldiers in this room have stepped up after natural disasters, like Hurricane Michael, and that many of you have recently returned home from deployment. I am honored to be able to say welcome home and thank you for answering the call of duty."
She added:
"I want you all to know the president and I are so grateful and have unconditional appreciation for all that you do. This administration will always stand with the men and women of the United States armed forces."
Military personnel also gave Trump a tour of the F-22 Raptor fighter jet belonging to the Air Force's stealth fleet.
Closed to the media was her tour of the USS George H.W. Bush carrier. The warship, named after the 41st president, takes off and lands like a helicopter. It measures 1,092 feet long and travels long distances.
Prior to her busy Wednesday, the first lady worked with Karen Pence and cabinet secretaries' spouses at the American Red Cross on Tuesday.
The women assisted volunteers in preparing military comfort kits for overseas troops. They put items like playing cards, toiletries, and even snacks in the packages.
According to Trump, the gifts are "one small way that we can say thank you and honor the sacrifices that members of the military make year-round."
Please fill in your e-mail so we can share with you our top stories!