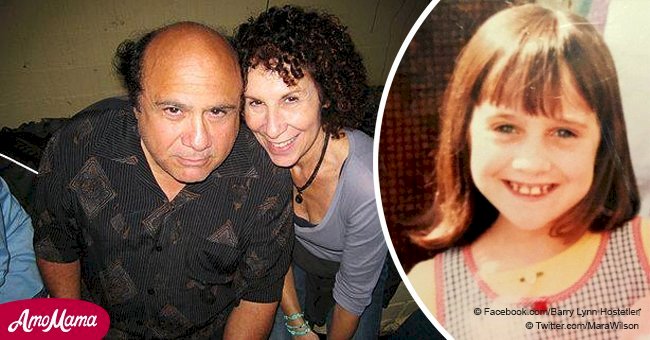 Heartfelt story of how young 'Matilda' actress was protected by Danny DeVito during mom's illness
Mara Wilson is known best for portraying the title role in the film "Matilda." However, what many people don't know is that she was facing personal problems when the movie was being filmed.
When "Matilda" was made, Mara was only eight years old. In a recent interview, she opened up about how tough it was for her and the help she received.
Mara admitted that she owes a debt of gratitude to Danny DeVito and Rhea Perlman, who played her parents in the film and are married in real life.
Read more on our Twitter @amomama_usa.
FATHER FIGURE
During the filming of "Matilda," Mara's mother passed away after a battle with breast cancer. DeVito and Perlman supported her by inviting her over and cheering her up.
Looking back on this Mara said:
"I was eight years old. It was very hard. And they were very nice. While my mom was sick and in the hospital, they would invite me over and take care of me, and get my mind off things. I felt very familial."
Mara's mother longed to see her daughter play the role of Matilda, so DeVito showed her an unedited version in the hospital before she passed away.
ANOTHER DEVITO FILM
"Matilda" is not the only children's movie that Danny DeVito has been in. He is in a new live-action version of the classic film "Dumbo."
The cast includes Michael Keaton, Roshan Seth, and Eva Green. "Dumbo" is directed by Tim Burton and will come to cinemas late March next year.
MORE ABOUT DEVITO
Many people know Danny DeVito for his work as an actor and producer, but there is more to him than that.
The son of a small business owner, Danny grew up as one of three children. He had two sisters and was the only son.
DeVito has three children with his wife Rhea Perlman; two girls and one boy.
Please fill in your e-mail so we can share with you our top stories!