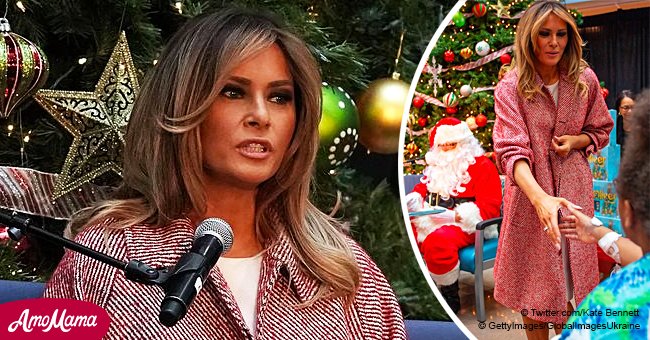 Melania dons $1,200 oversized coat with red and white stripes to bring Christmas to sick kids

Melania Trump embraced the spirit of the season and visited a children's hospital in a red and white striped coat.
The First Lady was both warm and stylish as she stepped out in an oversized Christmassy coat by Thomas Meier.
Melania Trump who was visiting the tiny patients at a Washington DC hospital - a tradition started by Bess Truman - looked especially festive in her brightly colored coat, reported Express.com on December 14, 2018.
BRINGING CHRISTMAS CHEER TO SICK CHILDREN
Probably nothing is quite as disheartening for a child as spending Christmas in a hospital, away from home and family, but Melania Trump put a smile on those tiny faces.
The First Lady visited the Children's National Hospital and met the families of babies who had been treated by the hospital's neonatal intensive care program, after which she met some of the children currently in treatment.
The First Lady's outfit for the occasion consisted of a big, bold, red-buttoned coat worn over a simple knee-length shift dress.
A CHRISTMAS TALE FROM THE FIRST LADY
The mother-of-one then sat down with the children and read them a storybook entitled "Oliver the Ornament," a fanciful tale about a magical Christmas tree ornament who saves Christmas.
Melania's performance was greeted with enthusiasm by her tiny audience, who gave her a standing ovation at the end of the story.
MELANIA'S STRIKING OUTFIT CARRIES A HEFTY PRICE TAG
The First Lady's outfit for the occasion consisted of a big, bold red-buttoned coat worn over a simple knee-length shift dress. Melania accessorized the ensemble with quirky red and white striped heels.
The coat, by German-born designer Thomas Meier, is said to carry a price tag of $1,200, although the price on the website Net-A-Porter has now dropped to $540.
Read more on Twitter Amomama USA.
MELANIA TRUMP'S APPROVAL RATE DROPS DRAMATICALLY
The First Lady, who has long been the most popular and beloved member of the Presidential family has seen a dramatic fall in her approval ratings.
Recent polls show that Melania Trump's favorable rating has fallen from a healthy 54% in October, to 43%, with 36% of the individuals polled expressing an unfavorable opinion.
Although Melania Trump is approved of by older, white, male Republicans and conservatives, she seems to have lost the support of younger people, women and the college educated.
The change is thought to be a result of the First Lady's recent high visibility, and her making speeches in which she voiced her opinion on matters of policy for the first time, and her less than enthusiastic opinion on the #MeToo movement.
In a related story, Melania Trump has been representing her husband on a goodwill tour of military bases.
Please fill in your e-mail so we can share with you our top stories!