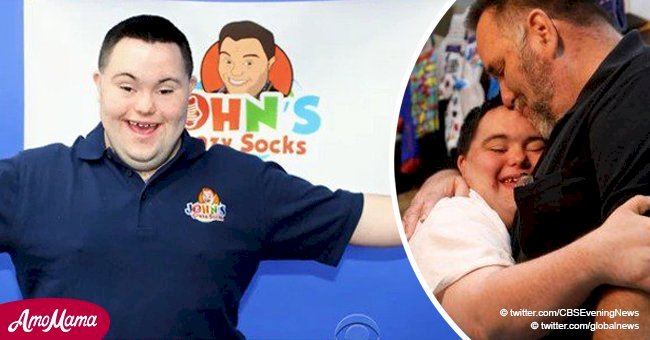 Meet the 22-year-old man with Down syndrome who built a multi-million-dollar sock business
Often people with disabilities are underestimated by people who think they can't achieve much. However, one 22-year old is breaking this stereotype.
John Cronin, an American man, living with Down's syndrome, runs his own thriving sock business, taking part in the latest colorful sock trend.
The effects of Down's syndrome include upward slanting eyes, low muscle tone, cognitive delay, and small stature.
Read more on our Twitter @amomama_usa.
TWINKLE TOES
Johns sock business is called John's Crazy Socks and is based in Long Island. He decided to start his own business after experiencing difficulties finding work due to prejudices associated with disability.
Every year on March 21 World Down Syndrome Day is observed by wearing colorful socks. One year John and his father struggled to find pairs that they liked, so they chose to design their own.
He and his father prepared a business plan for John's Crazy Socks and registered the business. They began designing and marketing their products. Shortly afterward a thriving business was formed.
Today the company has over 2000 different designs and donates five percent of all its income to the Special Olympics.
SPECIAL REUNION
John Cronin and his dad are not the only Down's Syndrome father-son duo with a touching story. Matt Cobrink, a 53-year-old man with Down's Syndrome, recently had a similar experience.
Matt was given the opportunity to travel to New York to meet Aaron Judge from the New York Yankees. Although he wanted to meet his baseball hero, he was anxious about being away from his father.
After Matt returned from his trip, he had an emotional reunion with his father at the airport. His sister filmed the interaction and the video has gone viral.
Please fill in your e-mail so we can share with you our top stories!