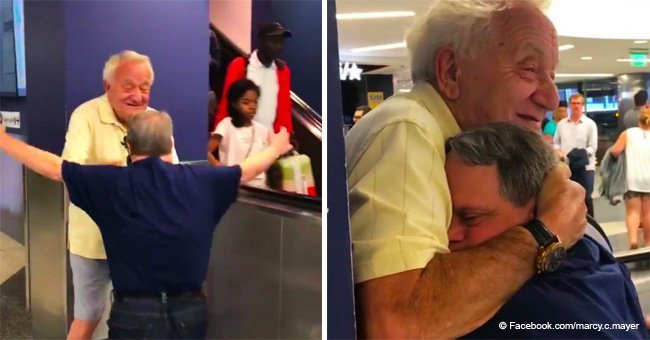 Man with Down syndrome warmly embraces father in emotional reunion video
Sweet reunion of a Down syndrome man and his father after a short trip
Matt Cobrink, 53, was offered a trip to New York to meet his idol, baseball player, Aaron Judge of the New York Yankees.
As happy as Matt was about meeting his hero, he was equally anxious about being away from his father, 88-year-old Malcolm Cobrink.
Matt had never been away from his father before, not even for a day, since his mother's death 25 years before.
After a week away from each other father and son reunited and Matt's big sister Marcy Cobrink Mayer captured the moment on video and posted it to Facebook on the 12th of August 2018.
"I knew that my brother and my father are so closely attached, and I knew that after five days my brother was going to really be missing my father."
Marcy Cobrink Mayer, Facebook,12th of August 2018.
Marcy, 56, was sure that her sweet affectionate brother would have an effusive reaction to seeing his father again, and she was determined to record that precious moment.
She started recording Matt with her smartphone as soon as he started coming down the escalators of the Los Angeles airport, and started looking for his father.
Read more heartwarming stories on our Twitter account @amomama_usa.
Matt, who suffers from Downs syndrome rushed towards his father and embraced him, covering him with kisses.
The video of Matt's meeting with his father went viral on Facebook, and garnered over 14 million views and 17,000 comments in less than a week.
Down's Syndrome is a genetic condition, and sufferers are born with an extra copy of t chromosome 21. People with Downs syndrome suffer from slow growth and some degree of intellectual disability.
It is estimated that 6,000 children with Downs syndrome are born in the U.S. each year. These children have been observed to have happy and loving dispositions and to be very kind and affectionate.
If you enjoyed this story, read more heartwarming articles about Downs syndrome here.
Country star sings moving duet with his uncle who has Down syndrome
Student with Down syndrome does victory dance on graduation stage
Please fill in your e-mail so we can share with you our top stories!