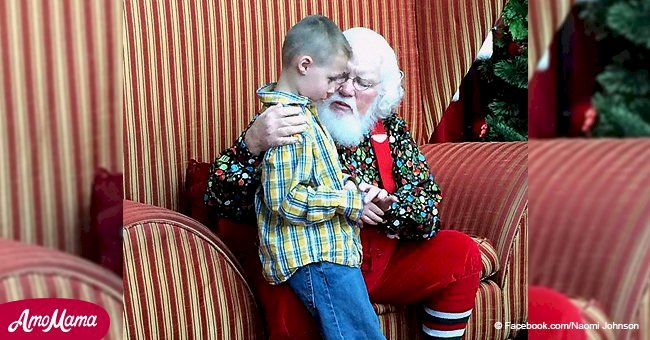 Boy afraid his disorder could ban him from Santa's list of 'nice' children

Landon Johnson was worried he wouldn't make Santa's "nice list." So when he got the chance, he expressed his concerns to the white-bearded big guy.
Naomi Johnson brought her son Landon, six, to RiverTown Crossings Mall to make his request for Christmas presents. She never expected her son to receive so much more from Santa that very day.
Her son, who has autism, is an "amazing" boy in her eyes. Yet Landon is often told he is naughty due to his disability. Naomi shared a story of how that all changed on her Facebook page.
Follow us on Twitter for more @amomama.
In her post, the mother said that she brought Landon to see Santa. They took a family photo and then left. But Landon returned.
Naomi was surprised to hear her son express his doubts about being on Santa's nice list due to his autism.
Even more shocking to the mother was this mall Santa's response when the boy asked:
"Will my autism put me on the naughty list?"
A kind Santa responded:
"You know I love you and the reindeer love you and it's OK. You're a good boy. You're a good boy, you know?"
Most importantly, Santa got rid of the young boy's doubts and said:
"It's OK to be you!"
Naomi confirmed that she frequently tells her son he is "special and [she] loves him the way he was made."
But quite rightly, "it's always nice to hear it from others. To be told that it's ok to be who he is."
The genuinely empathetic Santa did much more than that. He sat with Landon for another five minutes. His willingness to listen and treat the boy with respect was admired by all who learned of the story.
For Landon's mother, this Santa "made the top of the list" of amazing people they've met on their autism journey.
As for young Landon, the visit gave him reassurance that not only was he a good boy but that the caring mall Santa "was the real Santa Claus."
When the "real Santa" learned of how he had touched the family's hearts, he said, "it brought tears to [his eyes]."
He added:
"My heart melted that he had such a wonderful experience. It wasn't me. It was the two of us together."
Such heartwarming stories may be in danger if the debate against kids sitting on Santas' laps turns into something serious. The controversy first arose in 2014.
Hetty Johnson once contested the idea, suggesting that kids only sit on a mall Santa's lap when it is requested. She explained that the children should not be pressured into doing so.
But most people are in support of the practice. Indeed, parents would like for their kids to enjoy the magic of Christmas for as long as possible.
One teacher ruined the magic when she told her students that Santa wasn't real. The substitute teacher at Cedar Hill School was subsequently fired for what she said to a class of first-graders.
Not only did she attack Santa, but she also claimed that elves, the tooth fairy, the Easter bunny, and leprechauns were not real. The parents were left to do a lot of "damage control."
Clearly, not everyone has the holiday spirit in them when the time comes around. To those who do, we wish them the warmest season greetings and a happy new year.
Please fill in your e-mail so we can share with you our top stories!