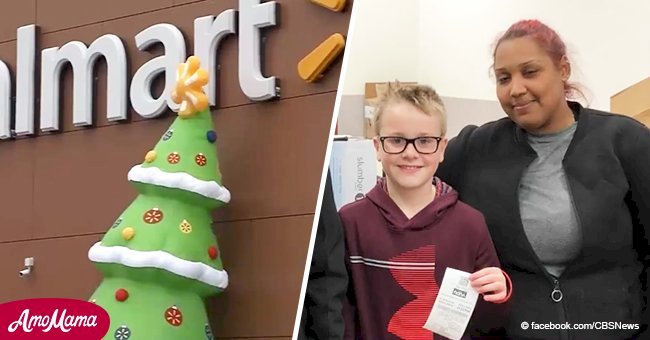 'Secret Santa' who paid off Walmart layaway for a customer was actually an 11-year-old boy
11-year-old Brady Procon proved himself to be wise beyond his years by deciding to be a Good Samaritan and pay someone else's Christmas layaway.
According to a CBS report, Brady was inspired by a secret Santa story in the news and decided to do make someone else's Christmas better by doing something similar.
He walked up to a WalMart store in Chicopee, Massachusetts, accompanied by his parents, and pulled out a random layaway receipt.
Surprisingly, the bill turned out to be a list of Christmas present for some kid who was of Brady's age. The items on the bill included an Xbox, PlayStation, and dinosaur walkie-talkies, which cost a total of $327,27.
Follow us on Twitter to learn more.
Brady later opened up to CBS about what inspired him to do the good deed. "Not a lot of kids are as fortunate as others, so I thought it would be nice to help a kid have Christmas," he explained.
He further expressed his wish that his action might motivate others to start "giving" during this Christmas season. "I'm hoping that other kids would catch along with this… and sort of kick-off a trend."
Impressed by the young boy's deeds, one of the employees told him, "We work here all the time, and we see so much bad. I appreciate watching you do this, actually."
Brady's mother, Kristen Procon, admitted to Western Mass News about being proud at her son's action before explaining that Brady has an amazing habit of "thinking of others."
Meanwhile, Brady's father revealed that his son saw a story on Western Mass News about a "Secret Santa" which encouraged him to become someone else's secret Santa.
About a month ago, another secret Santa made the dreams of some of the customers at a Walmart store in Vermont come true. He not only paid for other customers present that day but also paid for the layaway items of customers who were not even there.
However, there has been no identification for the man except for a snapshot of him walking away wearing a New England Patriots jacket.
Back in 2016, a couple similarly assumed the role of Good Samaritan after they selflessly decided to adopt their late neighbor's three children just before the Christmas holidays began.
Please fill in your e-mail so we can share with you our top stories!