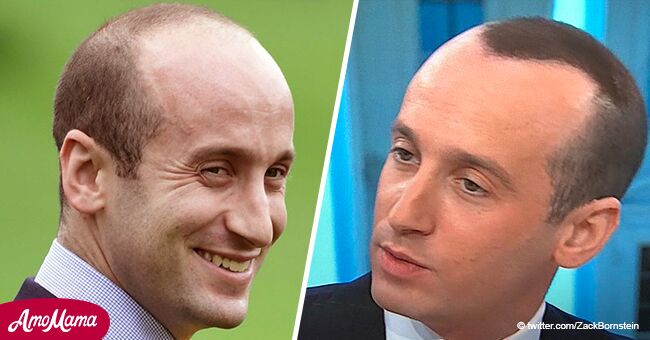 People mock Stephen Miller's spray-on hair after his last TV appearance
On Sunday, White House senior advisor Stephen Miller had an interview with CBS' Margaret Brennan for "Face the Nation." They spoke about the Affordable Care Act and whether or not the government would shut down over the border wall.
Despite the conversation being a serious and important one, people couldn't help but notice that Miller suddenly appeared to have hair on a once bald spot.
Stephen Miller's interview this weekend was overshadowed by his new hair growth on a previously balding head. Social media users mocked the White House senior advisor for his "spray-on hair" and "new growth."
Comedian Patton Oswalt joked about Miller's hair growth by alluding to spray-painted street art. His comment read, "Banksy strikes again!"
For more on this story go to our Twitter account @amomama_usa. The senior advisor revealed in the interview that President Trump was "absolutely" willing to shut down the government if Congress doesn't authorize funding for a border wall.
Miller revealed that the president would do "whatever is necessary" to get the wall built because it was "a very fundamental issue." The advisor insisted that Democrats, who opposed the president's requested $5 billion for wall funding, must decide "whether they want to fight for America's working class, or promote illegal immigration."
It's believed that the federal government would partially shut down after December 21, if the House and Senate failed to approve new spending bills. The shut down might also occur if Trump refuses to sign them into law.
Miller also stated that the death last week of Jackeline Caal Maquin, 7, was "a painful reminder of the ongoing humanitarian tragedy that is illegal immigration and the misery that it spreads." The little girl died two days after she and her father were taken into custody along the US border.
The White House senior advisor also weighed in on the Affordable Care Act Trump which was ruled unconstitutional on Friday in Texas. Miller stated:
"There's no change immediately in Obamacare. There hasn't been a nationwide injunction."
He also added that believed the "likeliest outcome" was that the Supreme Court would strike down the law. Miller was born on August 23, 1985.
He is an American far-right political activist who serves as a senior adviser for policy for Trump. The senior advisor was previously the communications director for then-Senator Jeff Sessions.
The politician was also a press secretary for Republican representatives Michele Bachmann and John Shadegg. Miller helped write Trump's speech for his inaugural address.
He was also a chief architect of Trump's travel ban, the administration's reduction of refugees accepted to the US, and the president's policy of separating migrant children from their parents.
Please fill in your e-mail so we can share with you our top stories!