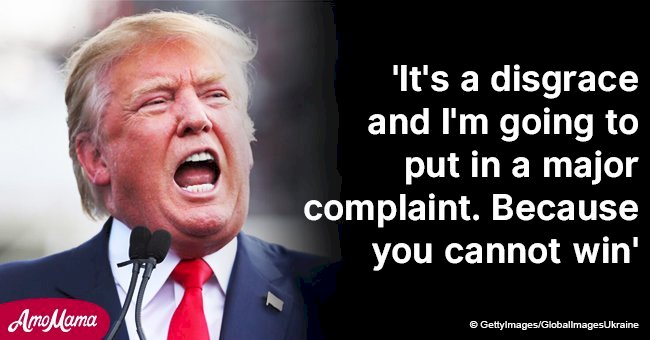 'Disgrace': Trump slams Court for stopping his ban on illegal border crossers
President Donald Trump slammed the Ninth Circuit Court of Appeals. He called the court a "disgrace" after a federal judge from the court barred his administration from refusing asylum to immigrants who illegally cross the border.
Earlier this month, the POTUS signed a proclamation to halt migrant asylum-seekers from entering the USA. The Trump administration drew up the proclamation with the hope of refusing asylum to immigrants crossing the U.S.-Mexico border illegally.
On November 9, Trump signed new legislation which stated no illegal migrants would be allowed to apply for asylum. He stated that migrants could still enter the country but they needed to follow "proper" protocols and enter legally
The decision had come in the midst of the migrant caravan that was heading to America to seek asylum. While the idea seemed good on paper, pro-immigration activists argued that the borders were already overwhelmed.
They argued that the system was already immensely backlogged. Many times immigration officials are forced to tell some migrants to turn around and come back to make their claims.
Activists argued that the order "contravenes existing U.S law and unfairly restricts asylum protections for those fleeing persecution and violence." A judge in San Fransico agreed with them.
U.S. District Judge Jon Tigar put a stop to the administration from implementing their plan. He served Trump with a court order that barred him from refusing asylum to illegal migrants.
A furious Trump responded to the court order in a rant on Tuesday. He said, "It's a disgrace and I'm going to put in a major complaint. Because you cannot win."
The President continued to say he will fight the decision. However, did not give any clear ideas as to how he will go about doing so.
The Trump administration drew up the proclamationn with the hope of refusing asylum to immigrants crossing the U.S.-Mexico border illegally.
He only said, "We get beaten and then we end up having to go to the Supreme Court." Trump then referenced the travel ban which his administration was forced to take to Supreme Court.
"Like the travel ban that we won. The Ninth Circuit, we are going to have to look at that." ~Trump regarding the bill now.
Please fill in your e-mail so we can share with you our top stories!