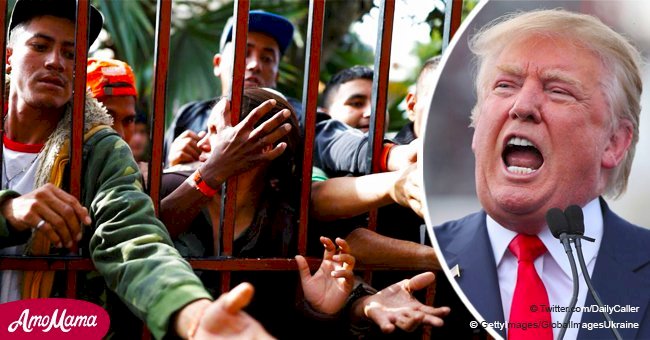 Federal Court bars Trump asylum ban
POTUS signed an order to halt migrant asylum-seekers from entering the USA but now a federal judge has temporarily blocked the Trump administration from refusing asylum to immigrants crossing the U.S.-Mexico border illegally.
Before the midterm elections, Trump set his focus on the migrants in the caravan heading to America to seek asylum. He campaigned hard to prevent this from happening. Part of the campaign, which has gone quiet after the mid-term elections, involved new policies being hinted at.
Then on November 9, Trump signed an order which said no illegal migrants would be allowed to apply for asylum. He stated that migrants could still enter the country however they would need to follow "proper" protocols and enter legally.
While his policy seems good on paper, pro-immigration activists were quick to point out that the points of entry and Trumps current administration have already caused massive backlogs and waiting times.
Many times immigration officials are forced to tell some migrants to turn around and come back to make their claims.
As a result, Pro-immigration groups have challenged the order in the court. They say the order "contravenes existing U.S law and unfairly restricts asylum protections for those fleeing persecution and violence."
U.S. District Judge Jon Tigar, who is based in San Francisco agrees with them. He penned a court order barring Trump from going through with his plans.
Judge Tigar stated that any "rule barring asylum for immigrants who enter the country" outside a port of entry directly conflicts with federal immigration laws and the "intent of Congress." He went on to expand on his sentiments.
"Whatever the scope of the President's authority, he may not rewrite the immigration laws to impose a condition that Congress has expressly forbidden," ~ Judge Tigar
In the court documents, the judge also stated that the US is part of pacts with the UN and has laws on the books in Congress that guarantee anyone the right to seek refugee status and asylum in the country.
The judge ruled that Trump's order would render those crossing the border illegally unable to seek asylum, thereby effectively waiving their rights and therefore barred the order from going into effect.
Currently, anyone seeking asylum in the US must prove that they legitimately fear persecution based on their race, nationality, religion, politics, or social group either from the government or forces the government cannot control in their home country. If they are then granted asylum it could eventually lead to citizenship.
Please fill in your e-mail so we can share with you our top stories!