Teen figure skater covering Whitney Houston's 'One Moment In Time' during routine is pure gold
As if skating like a pro wasn't enough, Starr Andrews is also a vocal powerhouse, and she combined those skills to impress the internet, again.
NEW ARTICLE: Starr Andrews (@Skating_Starr) reflects on her #USChamps18 scintillating free skate, unveils her short program music for next season & talks about her goals for the new season and beyond in our latest interview. Read it here: https://t.co/b3lbQUUGk7 pic.twitter.com/NCx9TAfEmo

— FigureSkatersOnline (@fsonline) April 20, 2018
When you become a famous internet sensation as a child, there's no arguing that very promising vistas are at your disposal. This is precisely what happened in the case of Starr Andrews who, at the age of nine, shot to viral fame when her figure skating program to Willow Smith's "Whip My Hair" broke the internet. The clip, which featured Andrews skating in bright pink top and purple shorts, has now gone beyond 54 million views.
Andrews became the center of attention overnight but said she never intended to go viral.
"I had no clue what going viral meant at the time. So I didn't really care about it that much," said Andrews. "I liked skating more. I was like, 'I don't know what that means, but okay!'"
#YouAreWinningWhen Starr Andrews is officially coming to your show on July 13th at @SkateWSA!!! Follow us for more details of the show! #IceDreamsTour #figureskating @Skating_Starr pic.twitter.com/NwXEuTpwwF

— ICE DREAMS (@IceDreamsTour) April 24, 2018
Years later, as a growing teenager, the phenomenal talent struck again and had social media users drooling over her abilities.
Capturing my "Summertime" moment....Thank you https://t.co/CHhYdPXH8X pic.twitter.com/SKYIpu7iVW

— Starr Andrews (@Skating_Starr) May 9, 2018
For the first time, Andrews introduced her other talent to the world. Apart from skating passionately, she also sings well, and when she skated to her vocal cover of Whitney Houston's 1988 Olympic anthem "One Moment In Time," time stood still.
Her performance garnered a lot of views and positive comments from netizens around the world.
So excited to announce I will be in the upcoming Ice Dream show at Westchester Skating Academy! Come check it out on July 13 @ 6:30pm! @IceDreamsTour @icedreamstourfb pic.twitter.com/rsSGbuZwDs

— Starr Andrews (@Skating_Starr) May 25, 2018
Stunning in a bedazzled white outfit and flesh-colored tights, Andrews twirled around on stage with such passion and confidence that even the narrator could not ignore.
"Nice job by Starr. Missed a couple of elements in the program but skated free, fast, passionate."
Teen figure skater, @Skating_Starr, covers Whitney Houston's 'One Moment In Time' during national championship routine: https://t.co/0KSY7R42cC pic.twitter.com/laUBKqY7Gy

— ESSENCE (@Essence) January 7, 2018
Andrews was competing at the U.S. National championships on January 5, 2018, and although her total score was not enough for her to make the U.S. Olympic team, Andrews is one to look out for.
Like Andrews, two French ice-skaters, Vanessa James and Morgan Cipres, also captured hearts across the world when they nailed a captivating "Fifty Shades of Grey" program.
The pair competed in 2017 at the ISU European Figure Skating Championships in Ostrava, Czech Republic and ended up finishing with a bronze medal.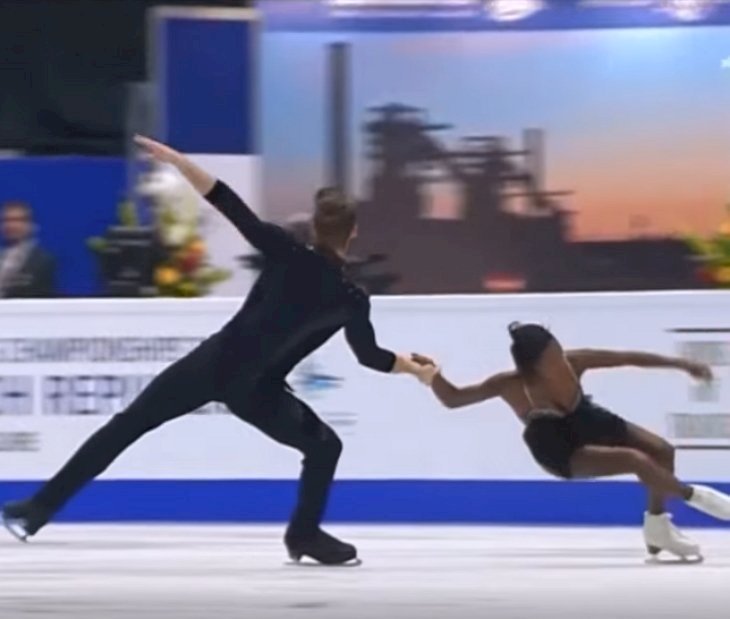 See the full video of the mind-blowing performance here.