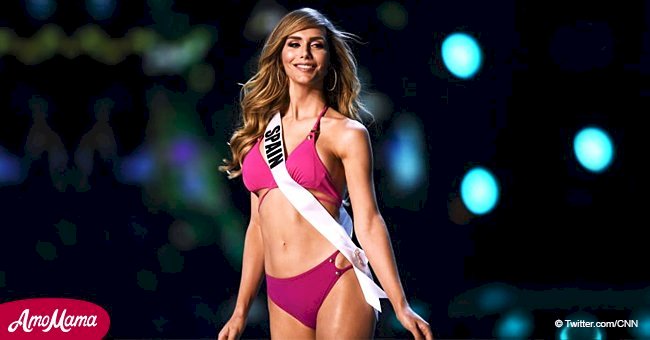 Transgender contestant makes history for being the first to compete for Miss Universe

Angela Ponce may not have won the crown, but she did take a win as being the first transgender woman to participate in the Miss Universe pageant on Monday.
This year, the Miss Universe pageant got held in Bankok, Thailand where the contestants went to local attractions first for some fun and to get to know their fellow contestants better.
With the help of a translator, Angela told NBC's 'Today' show:
"I never imagined (I would make it to Miss Universe) because I lived in a society where everyone said I couldn't do that. And I didn't have the information to realize that my dream to be a woman could ever actually be realized."
Find out more on our Twitter account @amomama_usa.
The 27-year-old Spanish beauty, unfortunately, didn't make it to the final round of the pageant but she broke barriers for the transgender community. Angela beat 20 other contestants in June to become Miss Universe Spain.
In the end, Catriona Gray, 24, from the Philippines got crowned Miss Universe and took a fourth win for the Philippines, having previously won the crown in 2015, 1973, and 1969. The second spot got taken by Miss South Africa while Miss Venezuela took third place.
Catriona worked in a tribute to the most active volcano in the Philippines, the Mayon volcano when she wore a crimson gown during the crowning of Miss Universe 2018, inspired by the volcano and designed by Mak Tumang. Of his volcano inspired 'lava gown' Mak said on Facebook:
"The prominent and iconic Mayon Volcano is the penultimate inspiration for this creation. It is dubbed as the 'perfect cone' because of its symmetric conical form. Folktales have it that it got named after the mythological heroine 'Daragang Magayon' (Beautiful Lady). Despite its pulchritude is the fact that it is the most active volcano in the Philippines erupting numerous times in the past half a millennium."
Just three years after the Miss Universe pageant rejected transgender Jenna Talackova, Angela won her first pageant in 2015. It was by no means an easy road for Angela as she faced discrimination as a model many times. She got rejected from jobs because of her gender identity but have always found comfort in her family and said:
"I always had the support of my family, and they're my foundation so that my life could unfold. They saw to it that I did not have a traumatic childhood. They are my strength."
The Miss Universe reached another milestone this year when there were only female judges on the panel this year. A few firsts for other pageants as well this year, as the Miss USA state pageant included a woman with a disability for the first time in its history.
24-year-old Mikayla Holmgren, from Stillwater, Minnesota became the first person with down syndrome to compete and went on to take the Spirit of Miss USA Award together with the Director's Award.
Please fill in your e-mail so we can share with you our top stories!