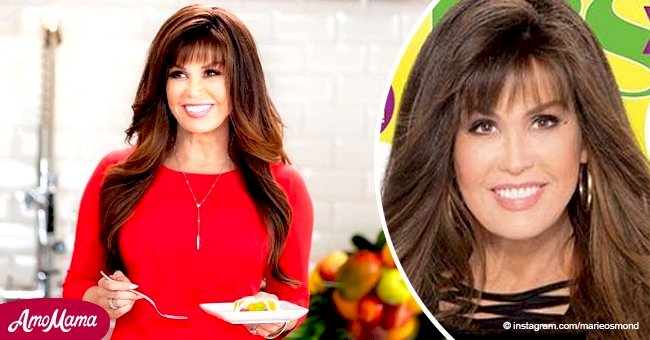 Marie Osmond flaunts slender figure on magazine cover revealing how she managed to lose 50lbs

Several years ago Marie Osmond decided to join the NutriSystem after she got tired of the way she felt. Now on the January 7, 2019 cover of 'First For Women' she shows off the 50 lbs she lost with a trim waistline.
In the issue, Marie spoke about how the NutriSystem changed her life, learned to be more healthy. When thinking back on how she used to go about dieting and food in general, she said:
"I have been through starvation and dieting. You can't run on no fuel. I've learned about portions and balance and what I'm supposed to do to maintain my weight and energy."
Find out more on our Twitter account @amomama_usa.
Because Marie lacked energy and didn't feel well, her first goal after starting Nutrisystem was to be more healthy. But like many other people, she also felt unhappy about the way she looked, as Marie said:
"Nutrisystem got me back on track. I've got to be honest. I was overweight and out of shape. I didn't feel good. I was tired. My joints ached. My confidence was down. Like so many of you, I was unhappy about how I looked and how I felt."
The 'Dancing With The Stars' competition vet spoke of how she "looks and feels so great," while also having minimized stress as she continued:
"When I started Nutrisystem, my first goal was to be healthy. But as a woman, I love having a small waistline and an even smaller backside. And I have to admit, thanks to Nutrisystem; I have both. I have so much energy now, too."
Marie admits to loving the compliments about her new slimmer figure, but for her, the main benefits lie in other areas as she said:
'I haven't had this kind of energy in at least ten years. I feel like getting out and rock climbing and biking, and doing things I love doing but didn't because I was overweight. I feel better, and I feel younger, too. They say you can't turn back time. Well, look at me and say that. Because I say, you CAN."
When Marie's brothers went to visit her in Los Angeles, they were stunned at the transformation. But for her, the best compliment came from her 19-year-old daughter who gushed:
"Wow, mom. You look great. I think you are a hottie!"
For 59-year-old Marie losing weight did not make her a better mom, it made her a happier mom. And as Marie rightfully remarked:
"I finally did something great for me so I could do something great for my family."
Marie also shared that she keeps lunch as light as possible, with her favorite lunch dish being a 210 calories NutriSystem chicken melt or a 160 calories cheese NutriSystem tortellini.
In between meals Marie snacks on grapes and apples, but admits it's going to be hard to stay on track during the holidays. It is the season for giving and celebration, and delicious food, luckily Marie already has a plan that works for her as she added:
"At this time of year we're giving so much of ourselves to others, but we need to take a little time to nurture ourselves. We can indulge in foods that bring us joy and cut back when we don't even notice. That's what I've tried to do and its worked wonders for me."
Just last week, on Wednesday, Marie took to Instagram to congratulate her 21-year-old daughter Brianna on her marriage to David Schwep, after the couple got engaged on November 19.
As a caption to the lovebird's picture Marie wrote:
"#Congratulations to our beautiful daughter Brianna and her wonderful husband, David Schwep. It was an amazing and glorious day!!! We love you both so much and eternally. #MrAndMrsSchwep #FavoritePhoto #Eternity #SweptOffHerFeet #SchwepicDay #FamiliesAreForever."
Please fill in your e-mail so we can share with you our top stories!