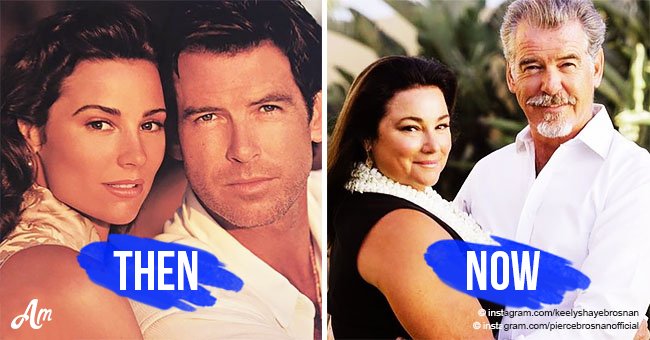 Pierce Brosnan and his wife celebrated their 25th year together and here's how much they've changed

Pierce Brosnan is a movie icon that will always be remembered for his role as 007 Secret Agent James Bond, famous for been a womanizer. But few of his fans know that he is actually a committed family man.
Earlier in 2018, the 65-year-old "Mamma Mia" star celebrated 25 years of marriage to his second wife, 55-year-old journalist Keely Shaye Smith, and the actor took to Instagram to share a memory about their special day back in 1994.
Brosnan let the image speak for itself and didn't add any caption to the picture that showed the newlyweds jointly cutting the first piece of the wedding cake. Read more on our Twitter account @amomama_usa
This was enough for his fans to understand, and they took to the comments section of the post to wish them a happy anniversary. The image has been liked by more than 58.000 since it was uploaded.
Smith has been criticized by the public on several occasions lately because she has gained weight in the more than two decades that have passed since the wedding, while Brosnan is still considered a sex symbol.
This has made some people suggest that Smith is no match for her superstar husband, but the two have proven that the love they share is so strong and determine that it won't be affected by the opinion of haters.
Brosnan repeatedly calls Smith "my girl" on his social media posts, and he often pays tribute to the woman he loves, and with whom he shares two sons, Dylan and Paris.
Brosnan was once famous for flying his wife out to every one of his film sets. "Wherever I went in the world I missed her, and I'd send her tickets to come so we could be together. We just seemed to fit," he said about this.
The couple met at the peak of Brosnan fame in a beach party in Mexico in 1994. Seven years later, they were exchanging vows in Brosnan's native Ireland in a lavishing ceremony.
Their two sons are now 21 and 17, and they can call themselves lucky of been the children of one of Hollywood's longest marriages. Brosnan's youngest son has been described as a copy of his famous father.
By seeing their many pictures together along these years, we can notice two things: they have undergone many physical changes, but their love for each other remains intact.
Before his marriage to Smith, the "Mrs. Doubtfire" actor had been married to Australian actress Cassandra Harris, with whom he fathered three children, namely Sean, Christopher, and Charlotte.
Brosnan lost his first wife to ovarian cancer in 1991, and most recently, in 2013, he was devastated once again after the same illness claimed the life of his 41-year-old daughter Charlotte in 2013.
Back in 2017, Brosnan opened up in an interview with Esquire Magazine, discussing his feelings after having lost two of the dearest women in his live to this terrible disease.
"To watch someone you love have his or her life eaten away bit by bit by this insidious disease, that kind of sorrow becomes an indelible part of your psyche," he said then.
Despite having experienced so many satisfactions in both his career and personal life, this is a pain that always haunts him, and he once put it this poetic way:
"I don't look at the cup as half full, believe me. The dark, melancholy Irish black dog sits beside me from time to time."
Please fill in your e-mail so we can share with you our top stories!