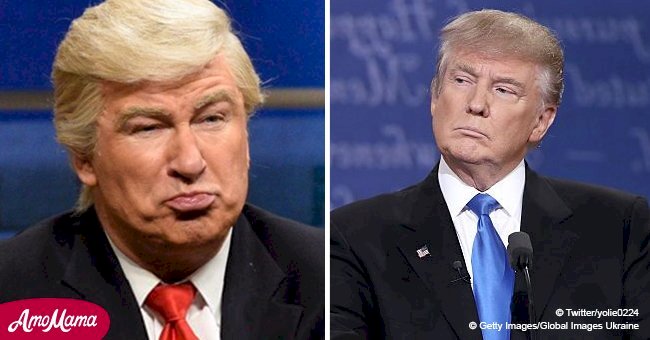 Alec Baldwin accuses Donald Trump of being a 'punishment 4 our sins'
Alec Baldwin tweeted some harsh words against President Donald Trump recently. He said Trump is a curse of slavery and racism.
The 60-year-old took to Twitter to Sunday. The night before, he played Trump on a "Saturday Night Live" skit that was Christmas-themed.
In the segment, Baldwin as Trump enters a parallel dimension in which he is no longer President and everyone is better off for it.
Trump later reacted to the parody of "It's A Wonderful Life." But Baldwin's response was more explosive.
Follow us on Twitter for more @amomama.
After the segment aired, Trump called the show a "Democratic spin machine." He suggested legal action be taken for defamation and "collusion."
On Sunday morning, Baldwin responded by describing Trump as a curse on the country.
He wrote:
"Trump is a curse, brought down on us as punishment 4 our sins. The slaughter of Native Americans, slavery, Japanese internment, Vietnam. Every hateful, misogynistic, racist notion, intertwined w our better nature, Trump embodies those. He is us. Now we can face it + exorcise it."
He continued in another tweet:
"Remember that once Trump is gone, by whatever means, + is replaced by a competent/duly elected successor, it will be necessary 4 all in this country 2 offer their support 2 that man/woman. Regardless of party. The period of healing for us will be long + will require our best."
Those who saw the actor's tweet gave varied responses to his words. Some agreed while others pointed out that Baldwin has serious issues as well.
In particular, an incident involving the actor fighting in a car park for a parking space was brought to light by many.
Last month Baldwin went to court for attampted assault and harassment. His lawyer denied any wrongdoing.
This isn't the first time that the actor is asking Americans to "exorcise" Trump from his post. In late November, he referred to the POTUS as a "Nationalist Socialist tumor" that Americans need to oust.
He wrote:
"The United States has a National Socialist tumor in its body and it is growing day by day. This alone should compel you to do everything in your power to get rid of Trump."
And just a month before, the left wing activist said: "It is time to overthrow the government of Donald Trump -- not in a violent way or unlawful way -- but it must be overthrown nonethless. Let's make America great again by making Donald Trump a casino operator again."
We expect more to come from the actor alongside his spoofs of the POTUS on SNL and his strong opposition to Trump's administration.
Please fill in your e-mail so we can share with you our top stories!