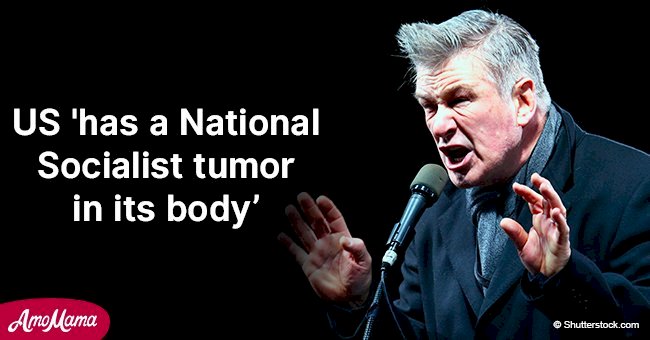 Alec Baldwin slams President Donald Trump in his recent tweet
In a powerful tweet, shown below, Saturday Night Live star and anti-Trump activist, Alec Baldwin once again called for the country to oust President Donald Trump.
The 60-year old actor took to Twitter to vent his frustrations. In a strongly worded tweet he called Trump, " a National Socialist tumor" in the body of the United States.
He built on the metaphor saying that the tumor is growing every day. Baldwin then called for people to oust Trump from presidency.
"The United States has a National Socialist tumor in its body and it is growing day by day. This alone should compel you to do everything in your power to get rid of Trump." ~ tweeted Alec Baldwin (@ABFalecbaldwin)
Baldwin is a well known for his anti-trump rhetoric. He has spoken out against Trump on various occasions.
Last month the left wing activist had said, "It is time to overthrow the government of Donald Trump -- not in a violent way or unlawful way -- but it must be overthrown nonetheless. Let's make America great again by making Donald Trump a casino operator again."
Only a week ago, Baldwin had told those who voted for Trumo that they "owe everyone else an apology" in one of his now infamous Twitter rants.
The Grammy award winner famously portrays the man he criticizes on SNL. He first appeared as Trump on the NBC sketch show in October 2016.
His role has earned him an Emmy for best supporting actor in a comedy series in 2017. He was nominated for the same category again in 2018.
More recently, the "Saturday Night Live" used Kanye West's visit to the Oval Office as inspiration for the third episode of its 44th season. Baldwin stunned audiences when he resumed his role as Trump in the brilliant paradoy of the meeting.
Unfortunately, his role as Trump may be in jeopardy after Baldwin was arrested at the beginning of November in New York. According to reports he got into an argument over a parking space with another man.
Allegedly, Baldwin then lost his temper and punched the other man. However, he says these claims are completely "false" and "egregiously misstated."
Please fill in your e-mail so we can share with you our top stories!