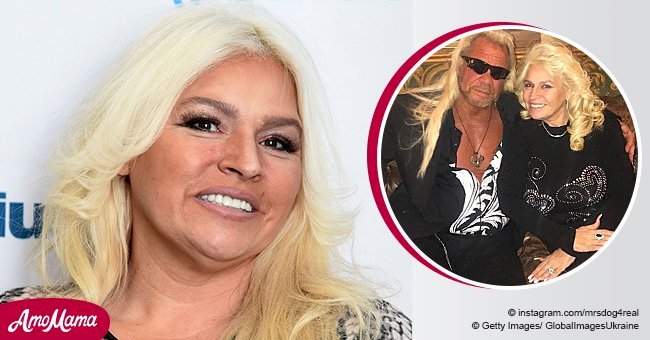 Beth Chapman keeps up sweet Christmas 'family tradition' despite her cancer battle
Beth Chapman is sticking to her Christmas schedule despite the return of her throat cancer. She is fighting this battle with unbelievable spirit.
The former bounty hunter has no intention of slowing down as she continues with her usual festivities for the season. She posted a photo to Instagram of her and husband Duane Chapman.
The two were apparently celebrating a traditional theater outing with the kids. The photo is found below.
Follow us on Twitter for more @amomama.
In the picture, Beth sat next to Duane of "Dog the Bounty Hunter. She smiled into the camera while Duane gave a more serious look.
Beth captioned the picture:
"Family Tradition. Theater with the kids for Christmas.. And Churchill's for dinner."
The comment section was quickly littered with words of support and adoration. Many praised Beth for how well she looked despite her incurable illness.
The 51-year-old was rushed to the hospital last month when she became unable to breathe. Her husband later confirmed that her throat cancer had returned.
Beth was diagnosed the first time in September 2017. Two months later, doctors declared her cancer-free. However, in November it came back and spread to her lungs.
After the surgery this past November, Beth proceeded to ignore doctor recommendations. She returned to her home and is doing almost everything she would typically do.
On Friday, Beth even stepped out for a night party in celebration of her stepson's birthday. She joined stepson Leland Chapman and his wife and kids in watching a Christmas musical.
Beth showed off her legs as she wore a black fur coat, sunglasses, and sparkly high heels. It appears that the cancer is not stopping her when it comes to fashion either.
Still, the family continuously welcomes prayers and words of support from their fans. There is word that Beth has expressed her wishes for funeral arrangements.
However, for now, the mother of three is getting on her husband's concerned nerves with her determination to do housework and even advise him.
We hope her positive attitude will be influential in helping to recover from the normally crippling disease.
Please fill in your e-mail so we can share with you our top stories!