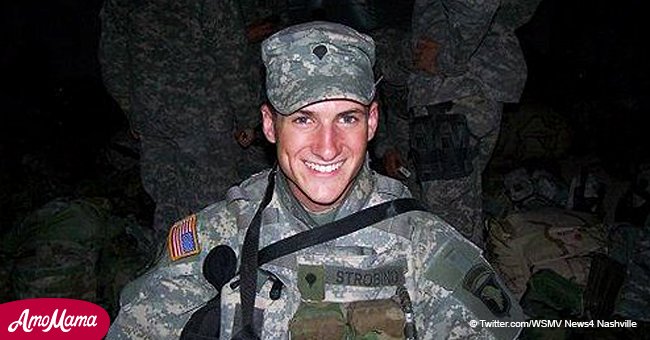 Army veteran shot 13 times while deployed overseas graduates from university

A decorated army veteran overcame his injuries to graduate with a degree in Exercise Science.
In 2006 Jay Strobino was serving with the 101st Airborne Division in Iraq. He was in Rushdi Mulla on a mission with his company when they were ambushed.
During the firefight, Strobino was shot at by a militant at close range, and the right side of his body was riddled was with bullets, reported Fox News on December 16, 2018.
"He came back around and he shot me again, and right before he shot me again I was like, 'this is it.' That was it, all I could do was roll over and take the brunt of it again."
Jay Strobino, Fox News, December 16, 2018.
A MIRACULOUS ESCAPE FROM DEATH
Strobino was hit in the femur, lung and one bullet went straight through his neck. Through it, all Strobino was conscious and moving, aware of the danger his platoon mates were in.
Strobino was lucky that day, he got out alive and was submitted to surgery for his 13 bullet wounds. But that was to be the beginning of his ordeal.
TAKING HIS LIFE BACK
Strobino was grievously injured and it took more than a year of rehabilitation therapy before he was walking again. His experience inspired him, and he enrolled at Middle Tennessee State University to study Exercise Science as a major, a discipline that studies how the healthy human body works during exercise, and how sport and physical activity can promote health.
Strobino, 34, was supposed to graduate in 2013 but he ran into difficulties the complexity of academic bureaucracy, filling out forms and finding the right offices, so he delayed graduating.
Jay Strobino, who won a Silver Star for his service to his country, is determined to continue his mission of service with his fellow citizens.
HELP FROM A VETERAN STUDENT GROUP
Then Strobino joined the Charlie and Hazel Daniels Veterans and Military Family Center and they helped him sort through the complicated meanderings of academic requisites.
Strobino walked proudly across the stage at Middle Tennessee State University to collect his diploma. Twelve years after he was wounded in combat, Strobino holds in his hands the wherewithal to help his fellow veterans overcome their own injuries.
Source: Wikipedia
STROBINO WAS AWARDED A SILVER STAR
The veteran who now works as a pharmacy technician dreams of joining a veteran's organization and putting his degree to work for the benefit of his fellow veterans.
Jay Strobino, who won a Silver Star for his service to his country, is determined to continue his mission of service with his fellow citizens.
Thank you, Jay Strobino.
Read more on Twitter Amomama USA.
THOUSANDS OF AMERICAN VETERANS ARE HOMELESS
Jay Strobino is right. Many strong young men came back from the wars with injuries that stole their vitality and mobility, and not all those injuries were physical.
These veterans returned to a world where they suddenly didn't fit, and families that suddenly seemed strangers. Many isolated themselves from their nearest and dearest and ended up living on the streets.
Like Strobino, Jason Clark is a veteran, and he works with the Topeka Salvation Army's Supportive Services for Veteran Families Program.
His job is to seek out homeless veterans and persuade them to accept his help and support. He has a huge challenge ahead of him since it is estimated that 40-thousand American veterans are homeless.
Supportive Services for Veteran Families helps veterans find a home and pays for their rent with a grant from the VA.
Clark knows how hard it is to "come home." He too was homeless for a year as he struggled to recover from a brain injury.
A veteran association got him back on his feet, and now Jason Clark is paying it forward, getting our lost boys off the streets and home where they belong.
In a related story, the Clara White Mission, a non-profit organization, is building tiny homes for homeless veterans in Florida.
Please fill in your e-mail so we can share with you our top stories!