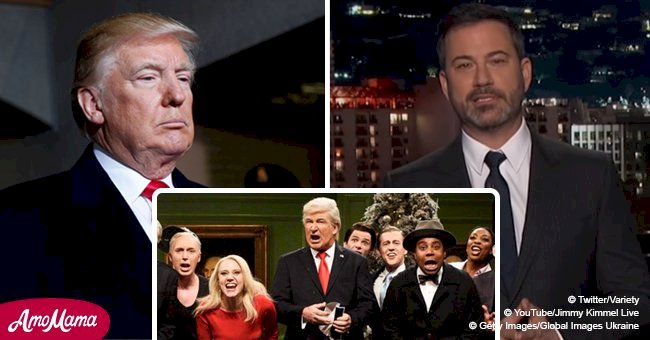 Jimmy Kimmel slams President Trump for not doing his job properly

Jimmy Kimmel humorously spoke on his show about the type of Christmas holiday President Donald Trump is likely experiencing, after Trump's tweeting spree this weekend.
Christmas is just around the corner, and Jimmy started the late night show predicting that it's not "going to be a very jolly one for the president of the United States," the reason is that "Santa is bringing a stocking full of problems to Donald Trump."
Mockingly, Jimmy continued:
"It has been a terrible holiday season for him. He's facing multiple criminal investigations; he's losing cabinet members, he lost the House. And on top of everything else, the DNA tests he ordered came back, and Eric and Don Jr…. are his."
Find out more on our Twitter account @amomama_usa.
Not being the first time that Jimmy joked about Donald Trump, as his comments correlated with his thoughts on President Trump before he got elected back in 2015.
The presidential candidate had an interview scheduled on his show and bailed at the last minute, and Jimmy explained to viewers:
"His people called late last night and canceled on us. They were cryptic as to why he canceled. They said he has a major political commitment. But he did want me to relay the message to you that if he had been here, he would have been great. Why did he cancel? We told him there were cameras here, right? Are Tuesday nights the nights he volunteers down at the orphanage?"
Poking at one of the many promises President Trump made, Jimmy continued:
"Remember when he was running for president, and he said he was going to come up with a plan to stop ISIS in 30 days? We're two years in; he can't even stop Saturday Night Live, never mind ISIS."
The host then went on to talk about the alleged hush money Donald Trump had paid to mistresses, joking that Donald is not even denying it anymore and only looking for people to take down with him.
Jimmy then played a clip where Rudi Giuliani spoke during an interview on ABC's 'This Week' about how payments were made to keep people quiet during the campaign.
At the end of October Jimmy voiced his opinion after President Trump said he is going to issue an executive order to make the right to birthright citizenship invalid. Something that the 14th Amendment of the Constitution of the United States guarantees.
During his rant, Jimmy explained that an executive order could not overrule the constitution, and not even Congress has the authority to make changes to the law.
And as president, Donald Trump is supposed to have a better understanding of how the system operates.
Please fill in your e-mail so we can share with you our top stories!