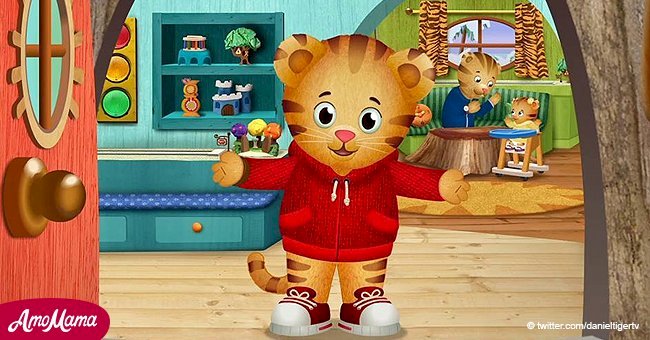 Here's why watching 'Daniel Tiger' might be better than reading books for your grandkids
Kids soak in almost everything they're exposed to. This makes figuring out how to teach them a huge challenge.
Good manners, values, and kind and polite behavior are just some things parents must sort out. Then there's anger control, potty training, and other challenges.
Luckily, parents now have a way to address all these issues and more. Additionally, it won't involve much effort, and their kids won't know they're being taught.
Follow us on Twitter for more @amomama.
Cartoon tv shows can only do so much. But "Daniel Tiger's Neighborhood is doing way more than one might expect.
The show originated from the older series "Mister Rogers' Neighborhood." Part of the cast was Daniel Striped Tiger. He is now the dad on "Daniel Tiger's Neighborhood."
The young tiger goes through various situations which teach toddlers how to go through life in such a way that even a book might not be able to.
For instance, Daniel suggests:
"When you feel so mad that you want to roar, take a deep breath and count to four!"
Several short tunes are sung during the show. These advice songs recommend ways to get through common toddler problems. They're catchy and the kids remember the songs easily.
The best part about it is that the kids don't even realize they're receiving such good life coaching. They don't know that they're now in better control of their feelings than even some adults.
Also, the kids better understand sharing, sadness, and frustration. They become empowered while you stay relaxed. Luckily, the show is on the quiet side in kids' entertainment.
Other educational shows one might give a go are Curious George, Super Why, Tumble Leaf on Amazon Prime, Wallykamazam on Nick Jr., Word Party on Netflix, and Doc McStuffins on Disney Junior.
The original neighborhood show, "Mr. Rogers," stopped airing in 2001. Fred Roger was remembered for his warm nature and genuine attitude.
Sadly, the beloved host passed away at age 74 after losing his battle with stomach cancer.
Before his death, he shared a video message for fans of the show. He talked about his interactions with fans and reminded them to continue being themselves.
His wise words will undoubtedly stay with many of us for a long time, even if we don't realize it. It's a pleasure to be able to pass it on through the newer version in "Daniel Tiger's Neighborhood."
Please fill in your e-mail so we can share with you our top stories!