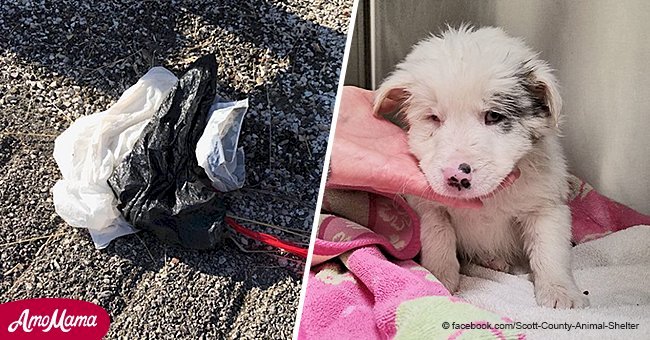 Two heroic men rescue a puppy from a weighted trash bag tossed into a frozen creek
Two men traveling on a road in Sadieville, Kentucky, were surprised to see something unusual near the road.
Two workers decided to stop the vehicle in which they were traveling to check it for maintenance reasons. It was at that moment when they observed a strange figure in a small stream of icy water that ran nearby, says The Dodo.
They were surprised to notice that there was a puppy that was trying desperately to stay afloat. Immediately, they stopped what they were doing and got into the current to help the animal. One of them managed to reach it and remove it from the ice water.
To make the story worse, the animal was inside a plastic bag, which also contained rocks, which could reach 10 pounds of weight. Evidently, the author of the event wanted the animal to sink along with the rocks, and thereby end his life. Read more on our Twitter account @amomama_usa.
Fortunately for the puppy, the bag was not tied at all and she managed to get her head through an opening and survive for a little longer.
Rescuers took it and drove it to the Scott County Animal Shelter, where it arrived with severe hypothermia due to the low temperature it had to endure.
Upon arrival, Chapel, as she was baptized, trembled desperately and her body temperature was very low. She was taken to a veterinary hospital where they doubted she could do it. But he received the necessary treatment until he regulated his temperature and recovered.
Chapel is a pure Australian shepherd, and it is also what is called double merle; a very strange condition in which the animal is usually deaf and blind, as well as this puppy. In the refuge, they believe that this could be the reason why it was abandoned.
In a very similar story, Jared Twedell drove to the local recycling center and realized that something strange was on the road. He noticed a movement on the edge of the train tracks. His surprise was even greater when he whistled and a pair of ears was raised.
It was a puppy tied to the train tracks, The Dodo reported. "I went into panic mode, he tried to walk to the car and the rope pulled him back," Twedell said.
Please fill in your e-mail so we can share with you our top stories!