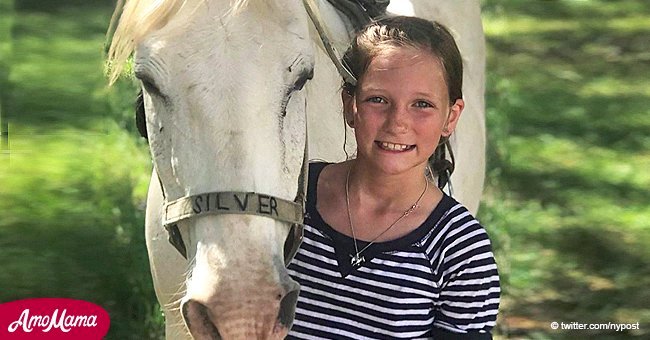 11-year-old girl's inoperable brain tumor disappears in a medical mystery that bewilders doctors
The word cancer makes many people scared and upset. However, for one 11-year-old girl, it symbolizes a quiet victory.
An 11-year-old girl from Texas, Roxli Doss, was previously diagnosed with a terminal brain tumor. She has now been declared cancer free.
This triumph baffles her family and doctors alike as they struggle to explain and understand how this happened.
Read more on our Twitter @amomama_usa.
THE MIRACLE
In June this year doctors diagnosed Roxli with a brain tumor that had no cure and could not be operated on. The tumor was called diffuse intrinsic pontine glioma and Dr. Virginia Harrod had the following to say about it:
"It is very rare, but when we see it, it is a devastating disease. You have decreased ability to swallow, sometimes vision loss, decreased ability to talk, eventually difficulty with breathing."
Roxli underwent 11 weeks of radiation therapy in an attempt to lessen the effects of a brain tumor. The doctors were shocked during a recent MRI scan to find no traces of the tumor in her brain.
Roxli, her family, friends, and medical team all hope that she maintains her current level of health.
CANCER COUPLE
A couple from Memphis, Joel, and Lindsey, also survived childhood cancer like Roxli. Joel and Lindsey were treated at the same hospital in 1993.
They both survived and 15 years later they ended up working at the same hospital where they had met and been treated at.
The could not immediately get together and only started dating 12 years later. They recently got married at the hospital where they met decades ago as children.
CHRISTMAS CHEER NEEDED
Not every cancer patient gets such a happy story though. A four-year-old girl from California, Crimson, has been diagnosed with terminal cancer and is predicted to only have six months left to live.
Her family has requested that people send her Christmas cards to lift her spirits. They will read the cards out to her.
The address for the cards is:
Crimson Barnett
PO Box 15367
Fresno, CA 93702
Please fill in your e-mail so we can share with you our top stories!