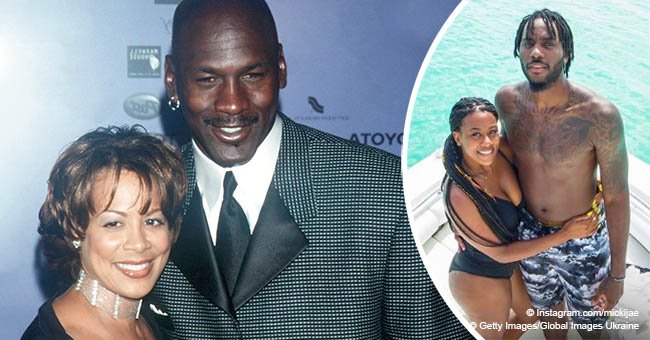 Michael Jordan & ex Juanita Vanoy's daughter steals hearts with sweet photos of fiancé on his b-day
Jasmine Jordan is a woman in love, and she proved with a recent Instagram post wishing her fiancé, Rakeem Christmas, a happy birthday. The young couple got engaged last June, and Jasmine's legendary dad, Michael Jordan, accepted Rakeem with open arms.
Michael Jordan's eldest daughter, Jasmine, is a gorgeous 25-year-old college graduate that will be getting married soon. She met her fiancé, former Syracuse University basketball player, Rakeem Christmas, on campus.
"He was my first friend on campus, and we became best friends while we were there," she told InStyle. However, it was until Rakeem graduated and went through the NBA drafting that Jasmine realized he had feelings for her.
"At first I was like, that's kind of weird; we're such close friends!" she revealed. But three years later, he popped the question, and she said yes.
A RECOUNT OF SPECIAL MOMENTS
Since officially announcing their engagement, Jasmine has been flaunting their love all over Instagram. And one of her recent posts marked a special occasion: Rakeem's birthday.
Jasmine shared a slideshow of four pics with the young man. In the first one, she's wearing a tight black dress, and he's wearing a white t-shirt and jeans; they have their arms around each other while posing casually for the camera.
The second one features the happy couple aboard a boat in the middle of a turquoise ocean; the next one has them posing in front of a painted wall in casual outfits, and the last one is a pic of their hands, highlighting Jasmine's engagement ring.
"To My Forever, I Wish You The Happiest Of Birthdays. I Love You Dawg," she captioned the post.
Fans in the comment section wished Rakeem a happy birthday, and others pointed out how lucky he is to be engaged with the only daughter of the legendary Michael Jordan. "Bro with the King's only daughter, He better move very correct," wrote one user, and another added, "imagine having to ask the GOAT to marry his daughter."
MEETING THE PARENTS
For most young basketball players, meeting Michael Jordan is a dream come true. But Rakeem got to build a relationship with him, even though Jasmine revealed that both men were extremely awkward the first time she introduced them.
"I don't introduce many people to my father, so once Rakeem actually met him, it was a bit hysterical because they were both nervous, and just awkwardly sitting there not knowing what to ask, which made me step in and break the ice," she explained.
"Nowadays they're almost like best friends, and it's kind of gross, but I'm happy that it was smooth sailing, and it's been great ever since."
Juanita Vanoy, Jasmine's mom, met the boy way before they even started dating. "They're just as close as him and my father, and probably text every week," Jasmine revealed.
It seems like the Jordan family is more than ready to welcome Rakeen into the family officially. But a wedding date is yet to be announced by the couple.
Meanwhile, Jasmine works a field representative for the Nike Jordan brand in Oregon and splits her time with her responsibilities in North Carolina, where she works with the Hornets, the NBA team her father owns.
Please fill in your e-mail so we can share with you our top stories!