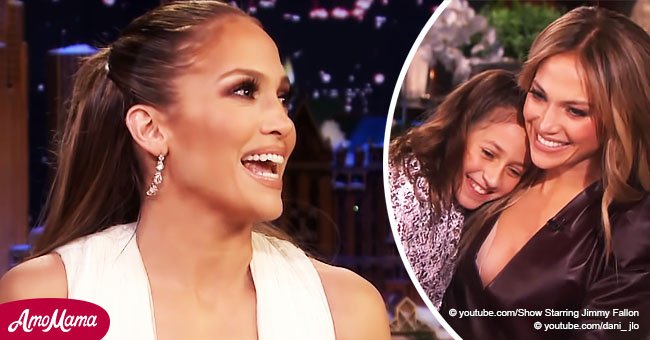 Jennifer Lopez is still stunned that her daughter Emme made her acting debut
Jennifer Lopez revealed in "Watch What Happens Live" that her daughter Emme is the star in her new music video "Limitless," which accompanies her movie "Second Act."
Emme, the daughter of the "Diva of the Bronx" with Marc Anthony, is following the footsteps of her parents and debuted as an actress recently. The 10-year-old insisted to Lopez that she wanted and could act in the music video, which also marks the singer's directorial debut.
Jennifer, who is known as one of the hardest working women in the world of entertainment, said she was "super excited" to direct a music video for the first time. She needed a little girl to represent the child inside every woman, and people in her circle kept suggesting Emme should do it.
EMME IS A NATURAL
However, the protective mom was not so sure about the idea. She feared the work would take a toll on her daughter, and was afraid of Emme not being a natural in front of the camera. But the little girl insisted until finally, her mother agreed, but not before giving a couple of warnings.
Lopez told Jimmy Fallon:
"She's like 'Mom, I can do it.' And I'm like, 'Oh god.' I said, 'Baby, are you sure? You can't halfway through say you're tired. We have to do it."
"We got out there, and in the middle of the take, I'm like ''Oh my god'', because I'm watching her and she's so professional. I just don't even know where she got it from," Jennifer said.
The proud mom was excited just to remember her experience with the music video. With a smile on his face, she added, "When I tell you she was so amazing and I was so proud, I forgot that I was directing my first video. It was all about her."
The "Limitless" video will be released on December 20.
GUSHING ABOUT THE BOYFRIEND
On the same interview with Fallon, Jennifer gushed about her boyfriend, Alex Rodriguez, suddenly getting emotional as she spilled compliments for the man and stated how much his support means for her.
"He's come into my life and really contributed in such a way. He's so supporting; he's so loving," Jennifer said. "He's one of these people, he's like, 'Shine. Be the best.'"
"Some people try to dull you down or squish you down, and he's so not like that. It's just so refreshing. It's just a beautiful thing. He's a very generous, loving soul."
The couple has been dating for more than a year now, and they will be celebrating their second Christmas as a blended family. Lopez recently took to Instagram to share a series of pics of her kids, Emme and Max, and Alex's daughters, Ella and Natasha, decorating their Christmas tree.
Please fill in your e-mail so we can share with you our top stories!