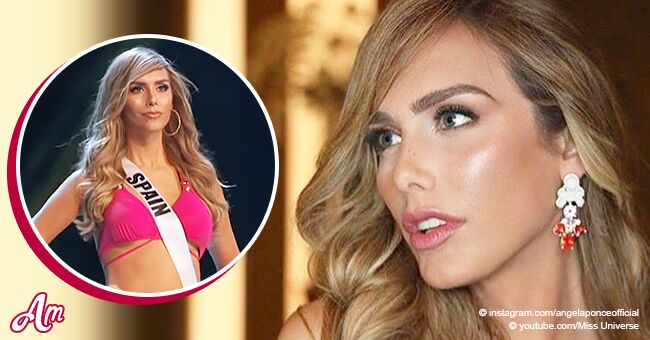 Transgender Miss Spain Angela Ponce stuns with her provocative bikini in Miss Universe

Ponce flaunted her spectacular figure wearing a fuchsia colored bikini during the swimsuit parade.
As the preliminary competition of Miss Universe 2018 that took place on December 13 in Bangkok, Thailand, 94 contestants had the opportunity to parade in swimsuits and evening dresses.
During the event, the jury selected the twenty most beautiful and suitable participants for the grand finale of the contest, held on December 16, when Filipino Catriona Gray was crowned.
Ponce's participation marked the first edition of the contest on which a transgender woman competes for the title, a topic that caused a stir and controversy worldwide. Read more on our Twitter account @amomama_usa
While it was rumored that a second transgender woman was going to take part in this historical edition of Miss Universe, Belguun Batsukh didn't become Miss Mongolia in the end and wasn't part of the contest.
All eyes were on Ponce when she walked the stage in her bikini. She also wore Spain's traditional dress, for which she took great pride, despite the many critics she has in her own country.
"If my role here contributes for the world to advance even a small step, for me that is a personal crown that I will always carry with me."
The model received a great ovation from the public, but comments on social networks were immediate.
CRITICISM IN SOCIAL MEDIA
Some of the users said that despite looking spectacular and worthy of the competition, she looked "a bit masculine" because of her "facial features" and body when compared to the rest of the contestants. Other netizens claimed to have noticed something "strange" in the bottom of her bikini.
@SirAlexDeLarge_ tweeted, "'Miss' Spain and her infinite possibilities of winning Miss Universe because she has a lot of leverage. This joke has already gone too far, God." "Help Miss Spain is just like Ken from Toy Story," @NyXio added.
A POWERFUL MESSAGE
Following such transphobic comments, the 27-year-old used her Instagram account to respond to those who judge her and sent a powerful message to those in a similar situation to her.
"What an honor and pride to be part of the history of @missuniverse. This is for you, for those who have no visibility and no voice, because we all deserve a world of respect, inclusion, and freedom. I am here today in the name of my country, all women, and human rights."
-Angela Ponce, Instagram, December 16, 2018.
Throughout her life and career, Ponce has proven several times that this type of comments would not stop her from keep pursuing her dreams.
Even when the contest was very important for her on a personal level, she has repeatedly said that her goal is to become a reference for transgender children and adolescents worldwide, and she counts herself as a winner because of what this means for the LGBTA community.
"If my role here contributes for the world to advance even a small step, for me that is a personal crown that I will always carry with me," Ponce said.
SHE WAS HONORED
During the event, Ponce received a heartfelt tribute from the Miss Universe organization and the audience in attendance at the gala.
After finishing her participation, she watched a video that the organization dedicated to her and in which she recalled her passage through the contest, as well as her childhood and youth.
She had previously said that her goal is "to be a spokesperson for a message of inclusion, respect, and diversity not only for the LGBTQ community but also for the whole world."
Please fill in your e-mail so we can share with you our top stories!