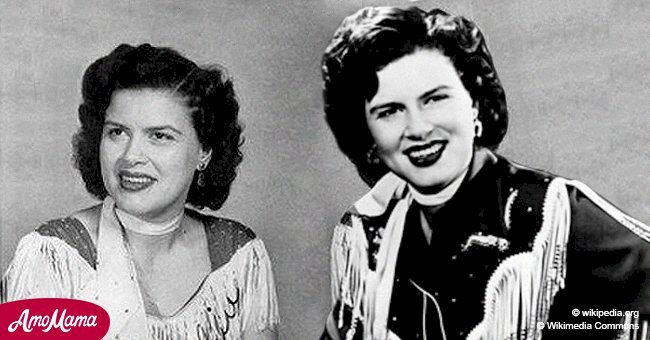 Frightening story behind Patsy Cline's legendary song 'Sweet Dreams'
Sometimes things get said, and it's only after the fact that their relevance becomes important. In Patsy Cline's case, things she said before her accident suggests that she eerily knew about her impending tragic death.
The iconic country star famous for her songs 'Crazy' and 'I fall to Pieces,' Patsy Cline was one of the late 1950s to early 1960s most influential singers with her unique Nashville sound.
She defined modern country music and was a trailblazer for other women in the industry. In spite of many personal struggles, her hard work soon catapulted her to fame. So it came as a shock when a plane Patsy was in, crashed during adverse weather conditions, killing everyone on board.
Shortly before her tragic death, she was about to release her latest album, 'Faded Love.' While in the middle of recording a track which would have been her first posthumous single, 'Sweet Dreams,' she picked up a copy of her album, raising it in the air and said:
"Well, here it is…the first and the last."
Read more on our Twitter account @amomama_usa.
The second notable incident happened on March 3, 1963, after Cline performed at a benefit at the Soldiers and Sailors Memorial Hall in Kansas City, Kansas for the family of a friend in the industry.
When the night came to an end Cline was unable to fly out due to foggy conditions, so she got the offer to drive up with her friend Dottie West, and her husband the next day. But instead she declined and replied:
"Don't worry about me, Hoss. When it's my time to go, it's my time."
The next day the plane Cline was in faced terrible weather conditions for which the pilot was not trained, and did not know how to use the instruments, relying instead on a visual flight for navigation.
Just outside of Camden, Tennessee, the plane ended up crashing nose first into a forest, leaving no survivors. Before that fateful day, her life almost came to an end a few times, as she got hospitalized with rheumatic fever when she was only 13 years old. Following her recovery, Patsy claimed to have emerged with a deeper, bold voice.
A year before Patsy's death in 1961 in Tennessee, she was in a terrible car crash that kept her in the hospital for a month and was still on crutches when she recorded, 'Crazy.'.
Patsy became the first female country singer to perform at Carnegie Hall and to headline in Vegas.
Country stars through the years have paid tribute to the great Patsy Cline in their own ways. LeAnn Rimes chose to perform a medley of Patsy's greatest songs, a rendition not to forget.
Holding an old school microphone, like the type Patsy used to have, she stood on stage at the American Country Awards wearing a figure-hugging snow white gown, delivering a fantastic performance. Afterward, LeAnn's emotions took over, and the tears just flowed.
Please fill in your e-mail so we can share with you our top stories!