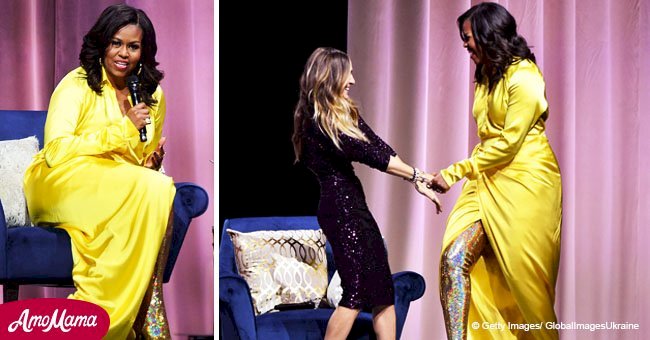 Michelle Obama glows in a yellow dress discussing her book with style queen Sarah Jessica Parker

Michelle Obama looked as festive as it gets in a yellow dress and dazzling gold boots on Wednesday.
The former first lady joined actress Sarah Jessica Parker for the last stop of her "Becoming" book tour in Brooklyn's Barclays Center.
The two took over the stage with their combined high fashion. Parker wore a glittery black dress that came to just under her knees.
Follow us on Twitter for more @amomama.
However, Obama may have stolen the show with her satin long-sleeve yellow wrap dress. She paired the piece with a $4,000 item that overshadowed all other items in the room.
Wearing a pair of thigh-high glittery-gold Balenciaga boots, Obama spoke about her best-selling book. Her hair was kept loose and she accessorized with a few rings on her fingers and hoop earrings.
Quite appropriately, Obama discussed how she selected clothing during her tenure as the first lady of the United States.
The Daily Mail reported what she said:
"I did know that my clothes were making a statement, I knew that was the case."
She continued:
"So we decided why don't we use this platform to uplift some young new designers who normally wouldn't get this kind of attention because you can change their lives, which is one of the reasons why we chose Jason Wu for my inaugural gown."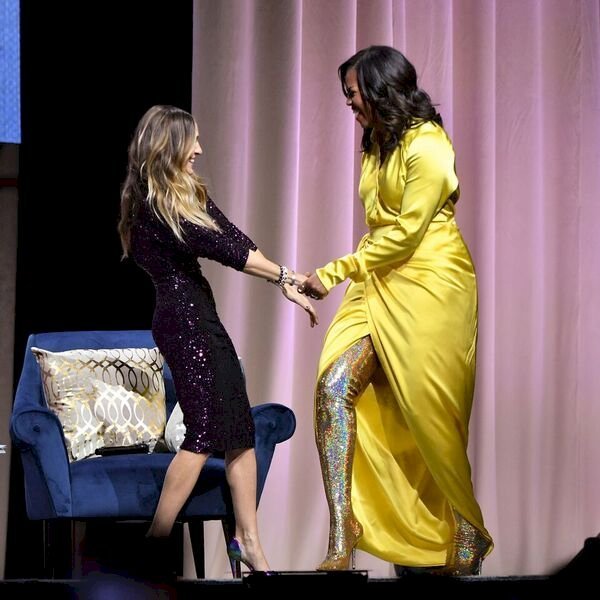 Source: Getty Images
She explained that Wu did not see the pick coming, adding:
"You learn that there are people in this scene who feel entitled to these things because they've done it for a while, and I hated that feeling. There are whole lot of people out here who are trying to make it, there are young women and immigrants and black folk."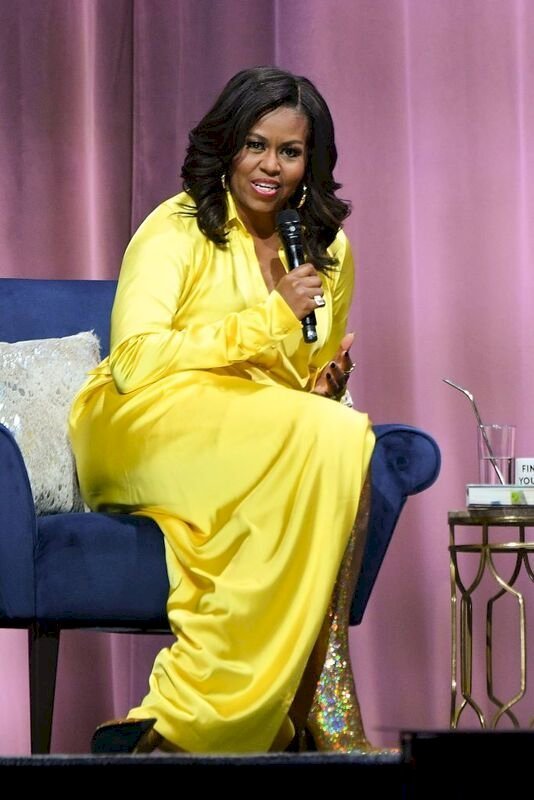 Source: Getty Images
Obama described her desire to go off people's spirit in her choices:
"I didn't want to wear the clothes of someone who didn't have a good spirit, and you could hear these things, you could hear how they treated my staff or how they treated their works, so everyone I wore as far as I knew had a good spirit as well."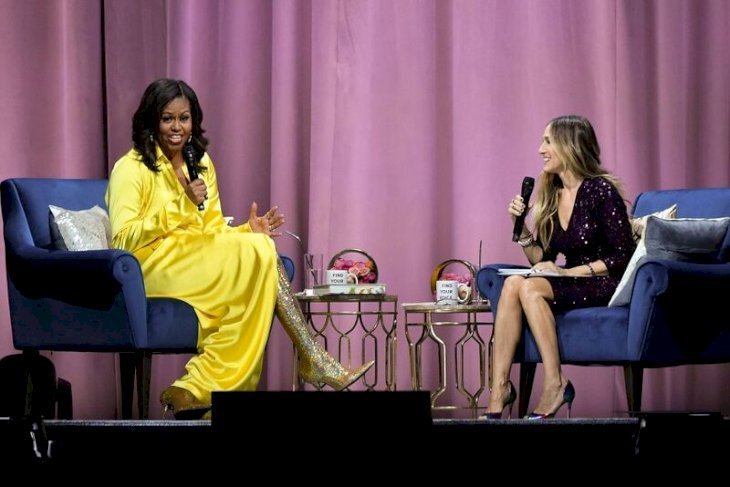 Source: Getty Images
The 54-year-old then delved into the high expectations her husband faced as the first African American president.
She compared it to the leeway that Donald Trump is given. She said jokingly:
"Often time, when you're the first or the only, the bar shifts a lot, right? The bar gets set, you meet it, exceed it, they move the bar, and were watching that right now - the bar's just swinging, and swinging."
Obama said she'd "never seen this bar before." Back then, she and her husband's bar was "very different."
In contrast with Obama's planned Barclays visit, the former first lady made a surprise visit to Dallas High School students on Wednesday.
The female students were in a workshop in which they were studying Obama's book. Of course, a firsthand account is always better.
Some girls were driven to tears when Obama showed up at the Winspear Opera House. She saw the initiation of the annual Young Women's Leadership Conference: Leadership Lessons Learned through the Arts.
The former first lady pulled the same stunt the week before when she surprised male students at the Motown Museum.
Again on route to her book tour, Obama popped in to encourage the college students. She spoke alongside her brother Craig Robinson and actor Keegan Michael-Key.
The mother of two is an inspiration everywhere she goes. It may be through experience or fashion, but she sure knows how to touch hearts.
Please fill in your e-mail so we can share with you our top stories!