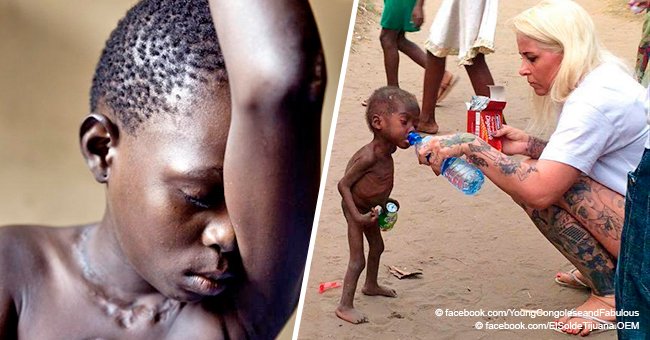 Exorcised & abandoned by their families, this is the cruel reality of 'child sorcerers' in Africa
They are tortured, thrown on the streets and even killed by their parents. More and more African children are accused of witchcraft, of causing misfortunes by the mere fact of existing. They are known as enfants sorciers, and this is their cruel reality.
"First the fridge broke; Then I got sick, and the doctor did not know what was wrong with me. Then the meat grinder broke down, I had a car accident, and I realized that money was disappearing at home. It was then when I knew what was happening: My children are witches."
Kalumbu's conclusion may be farfetched, but this Congolese mother, however, did not need to gather more evidence to convince herself that her children, ages 8 and 10, were possessed by evil spirits. She took them to a Pentecostal pastor from Kinsasa and there confirmed her fears. "Yes," said the pastor. "They are enfants sorciers." That is, witch children.
And so, Kalumbu abandoned them, forever, in the streets of a city of eight million inhabitants where 50,000 children roam alone; a third of which, according to Doctors of the World, were expelled from their homes for being witch children.
A BELIEF GROUNDED IN SUPERSTITION
Thousands of children suffer the same fate in Nigeria, Gambia, Togo, Benin, Cameroon, South Africa, Angola, Ghana, Kenya, Sierra Leone, Tanzania. Countries of strong animist tradition - where all problems are attributed to a spiritual cause where the sorcerer, the possessed one, is the paradigm of the badness and cause of all the misfortunes.
There is no more hated and feared figure. So much so that the accused of witchcraft can be ostracized and tortured in painful and prolonged exorcisms -with imprisonment, deprivation of food or consumption of dangerous substances. In some cases, they are murdered; many times at the hands of their parents or relatives.
It's a real situation that thousands of African children have to endure, according to organizations such as UNICEF, Acnur, Save the Children or Human Rights Watch.
THE PERFECT EXCUSE
Today, half of Africans are children, 20 percent of whom, warns Children International, present problems of physical development due to malnutrition or disorders such as megalencephaly, swollen bellies, tuberculosis, autism, Down syndrome, albinism, epilepsy, and other "curses" that push many families to get rid of them.
Accusing them of being sorcerers is the perfect justification to stop feeding another mouth.
In the face of increasing precariousness, more and more families who see their children as an unsustainable burden, or those forced to accept the children of deceased relatives, take advantage of this route to blame them for all their ills and kick them away from home.
HOPE'S STORY
Such was the case of Hope, a Nigerian boy who is now 4, turned into an icon of the fight against this practice by the work and grace of social networks.
His family could not pay for the exorcism and left him when he was little more than 2. For eight months, the little boy survived on the streets of Eket, a city the size of Bilbao in the Nigerian state of Akwa Ibom, until a Danish woman named Anja Ringgren appeared in his life, on January 30, 2016.
Ringgren, the founder of the African Children's Aid Education and Development Foundation, picked him up in the street, starved and naked, and moved him to a hospital. After being subjected to a treatment to eliminate parasites from his digestive system and receive daily transfusions to recover an acceptable level of red blood cells, the Scandinavian benefactor spread the story of Hope on the Internet.
Two days later, the account of her foundation, created to save abandoned witch children, received one million Danish crowns (about $140,000).
Two years later, nobody knows what could have caused the accusation of witchcraft against Hope, since he was a toddler and his parents remain unknown. But according to his caretakers, the child suffered from hypospadias, a congenital anomaly in the penis which may well have served to demonstrate his 'malign' powers. He already went under surgery to fix it.
THE MENTAL DAMAGES
The range of excuses is wide: a death or an illness in the family are the most common, but also the loss of employment or harvest, repeated small misfortunes and even a nightmare of bad omen dreamed by someone in the family.
Those who survive tell stories like Chist, 7, who was accused of being a witch when his father lost his job. "He tortured me to force me to confess that I had cursed him."
Cesar, 10, was accused by his stepfather. "My father left. My mother's new man said that I was a witch and they threw me out."
Sadly, there are also cases like Rudelle, 12. Her parents called her 'witch girl' so many times that she is convinced to be one: "Every night, my soul separates from my body and an evil dog enters it that bites and kills without mercy."
Most of the neglected children come to believe that they are sorcerers. They are scared and have been rejected; their innocence doesn't let them realize that there is nothing wrong with them.
REHABILITATION CAN BE HARD
Children in shelters like the one managed by Anja Ringgren, or the Don Bosco center of the Salesians in Togo, are better off than Rudelle. There, they begin the process of 'detoxification,' which aims to convince them that they are neither possessed nor are they to blame for anybody's bad luck — something that can take years.
The impact of these accusations on children is immense, says a report of the Salesian Missions. If they are not treated and reinserted into society, they can suffer learning problems, social isolation, aggressiveness, depression, post-traumatic stress, anxiety, personality disorders and repeat violent behaviors that reflect those experienced in early years.
HOW TO HELP
For Ringgren, "education is the key in the fight against superstition." "To put an end to superstition, exorcism and black magic performed by pastors and the so-called witchdoctors advocacy work must be carried out," she stated.
Creating awareness is the first step in a fight against ignorance. Thousands of children keep suffering every day because of ancient beliefs, and while several organizations are working to save the kids from a terrible fate, they need all the support possible, whether is with donations, volunteers or even spreading the word about the horrors that the enfants sorciers live.
Please fill in your e-mail so we can share with you our top stories!
news.AmoMama.com does not support or promote any kind of violence, self-harm, or abusive behavior. We raise awareness about these issues to help potential victims seek professional counseling and prevent anyone from getting hurt. news.AmoMama.com speaks out against the above mentioned and news.AmoMama.com advocates for a healthy discussion about the instances of violence, abuse, sexual misconduct, animal cruelty, abuse etc. that benefits the victims. We also encourage everyone to report any crime incident they witness as soon as possible.