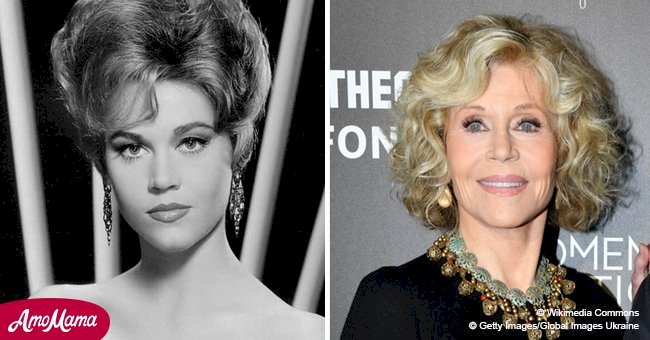 Here's how 81-year-old Jane Fonda stays fit, fabulous, and ageless
Do you want to know how certain Hollywood stars do to stay fit and look young? Now you'll learn from a true master, fabulous Jane Fonda revealed everything you need to know.
This December 21, the actress celebrated her 81st birthday of life and the recurring question they ask her is: What do you do to keep yourself that way? What diet, what exercises, what cosmetic treatments?
But Fonda has always been very emphatic in saying that if something has discovered over the years is that the work is done from the inside out, and this is what has responded in recent years about their "secrets", particularly in a special interview with Vanity Fair magazine.
Read more on our Twitter account @amomama_usa.
Let go of perfectionism
To say it, a woman who became famous for making exercise videos might seem ironic; but on the contrary, Fonda confessed that her father was her first destructive critic and made her feel physically imperfect and insecure, so she fell into bulimia as a teenager.
"Human beings are supposed to be a whole and that you can't achieve if you are always looking to be perfect. It took me a long time to learn that."
Fall in love but do not lose your strength
Three divorces later, the actress realized that maybe her problem was that she believed that if she did not have a man by her side she was nobody. That is why he warns girls in their 20s and 30s not to give themselves to anyone, to recognize their value and wait for the right one.
In fact, he says that love in the third stage of his life has been the best: "When I fell in love again, I did not need a man. When we enter a relationship as a whole and not as a half (or less), it is when true intimacy arises. "
It also ensures that this connection - which can be at the level of a couple, friends or family - is what makes one feel happier and healthier, which is immediately reflected in the physical aspect .... it is that: "you look radiant".
Look at the past and face the future
"It's hard to keep going if you do not know where you've been," says the protagonist of Grace and Frankie, suggesting that you review your life, the relationships you've had and your childhood so that you better understand who you are today (and why), so that you can face old demons and continue with your future plans without any kind of chain.
Aging is like climbing a ladder
According to Fonda, the concept of "aging" should be revised, because the old paradigm is to see life as: you are born, you reach middle age and then you age until you are decrepit.
The actress prefers to have a more positive approach and see aging as a climb of stairs where, as you go climbing, you acquire knowledge, emotional well-being, and experiences.
She assures that by honoring old age you become more long-lived because, otherwise, you fall into a deep sadness that even health complications can bring.
Surgical retouching
Jane Fonda is not afraid to say that she invests in her appearance because it helps her look and feel better. He has operated his jaw, stretched and retouched the area under his eyes to avoid looking tired. "I felt great but my appearance did not show it ... I got tired of not looking like I felt".
However, she warns that it is not an obligation for the woman and that she understands that it is something "extreme" to what not everyone may want to submit, but that there are also creams and non-invasive treatments that can help you with your appearance, especially if it is something that "bothers you".
Move, sleep and watch what you eat
The exercise expert says that even a daily walk is necessary to stay strong, improve your sleep quality and decrease the risk of brain damage. If you can add some light weight lifting exercise, much better. Everything according to your abilities.
It also ensures that you have to cut bad eating habits from an early age, always looking for nutrients in fruits, vegetables, and complex carbohydrates.
A glass of wine every now and then is not bad but she says that alcohol is one of the main contributors to premature aging, as well as fried foods, sugar, and processed foods.
Sleeping between eight and nine hours a day also, she says, is vital for tissue restoration and proper hormonal functioning.
Do not lose interest
Finally, Jane Fonda warns younger generations that, although it is sometimes difficult to discover who you really are in a society that strives to tell you how you should be, have the courage to be authentic and try to discover it.
"It's much more important that you stay interested because you're doing what you like to be interesting."
This story reminds us of 45-year-old Hedi Klum who opened up about her age-defying beauty secret – a $10 gentle apricot scrub for her smooth skin.
The former model revealed that she takes great care of her skin and her general health at a celebration for her Ocean Drive cover, reported ENews.
Please fill in your e-mail so we can share with you our top stories!