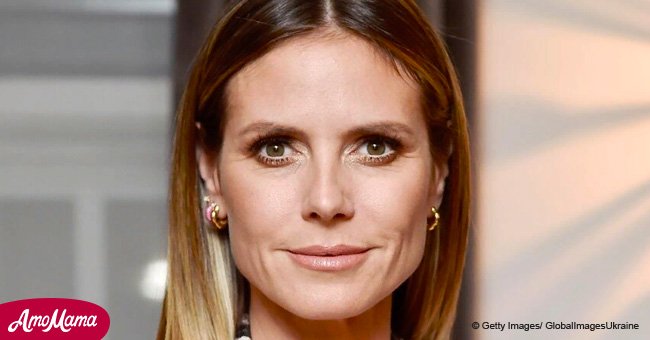 E! News: Heidi Klum reveals her secret for ageless beauty
45-year-old Hedi Klum opened up about her age-defying beauty secret – a $10 gentle apricot scrub for her smooth skin.
The former model revealed that she takes great care of her skin and her general health at a celebration for her Ocean Drive cover, reported ENews.
Some celebrities look like they drink from the fountain of youth. While some are blessed with ageless beauty, they do put in efforts to stay that way.
Follow us on Twitter for more stories like this. Visit AmoMama USA.
Since she became a household name in the late 1990's, Heidi Klum has not changed much.
She has spent a good twenty years in the entertainment industry, welcomed four children, and was part of Project Runway for more than a decade, but Klum has remained as radiant as ever. The secret of her timeless beauty is a scrub.
"I do like a scrub. It's called Aapri. You can get it at the drugstore because I believe it's good to exfoliate twice a week. You know, it keeps your skin rejuvenating, making new skin over and over again."
Heidi Klum, ENews, July 16, 2018.
The America's Got Talent judge uses the Aapri The Original Exfoliating Facial Scrub Cream, a commonly available product in drugstores across the United Kingdom.
The scrub uses Apricot Kernel Oil, Aloe Vera, and Vitamin E to cleanse the skin. It works best to get rid of the dead skin.
The product is not available in drugstores in the United States, though St. Ives Fresh Skin Apricot Scrub comes close to it. However, one way of getting hands on the product is by purchasing in online for $33.
Besides the scrub, Klum said that she tries "to keep it simple." She also enjoys Mario Badescu Buttermilk Crème.
The Project Runway host added that she keeps her makeup to a minimum when she is not shooting.
Though skin-care routine, maintaining healthy and radiant skin seems a difficult task, it isn't, claimed Klum.
The mother-of-four, who is raising her children in Los Angeles, said it was all about eating healthy with the right amount of exercise. She also revealed that she runs on the treadmill while staying away from shakes or pills.
Klum also emphasized on eating good and healthy food and claimed that home-cooked, fresh food was the right way to go, reported Today.
Please fill in your e-mail so we can share with you our top stories!