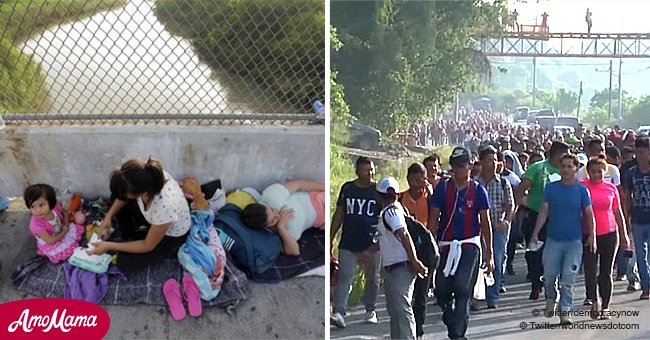 New policy will keep migrants in Mexico while their asylum claims proceed
Immigrants seeking asylum will no longer be permitted to await the Government's decision on US soil.
The Trump administration has announced that asylum seekers will have to wait on Mexican soil while their application is processed by U.S. authorities, reported The New York Times on December 20, 2018.
The new policy will apply to immigrants apprehended at the border, but not to children traveling alone, or to Mexican citizens applying for asylum.
"They will not be able to disappear into the United States. They will have to wait for approval. If they are granted asylum by a U.S. judge, they will be welcomed into America."
Kristjen Nielsen, The New York Times, December 20, 2018.
POLICY TO PREVENT ASYLUM SEEKERS "VANISHING" INTO THE U.S.
According to Homeland Security Secretary Kristjen Nielsen, the new policy will ensure that individuals seeking asylum will not simply disappear once on U.S. soil and become illegal Immigrants.
The asylum seekers will be waiting for the resolution of their applications on Mexican soil. In order to ensure Mexican collaboration, the Trump administration has pledged to invest $10.6 billion in Central America and southern Mexico to promote development, improve the economy, and reduce the drive to immigrate.
According to U.S. law, it is not illegal for an individual to enter the country without a visa in order to seek asylum.
AMNESTY INTERNATIONAL CHALLENGES NEW POLICY
Margaret Huang, executive director of Amnesty International, defined the new policy as "callous" in the face of the plight of people fleeing for their lives in the hope of finding sanctuary in the United States.
Huang stated that the policy violates international law, and contravenes the law of the United States approved by Congress and enshrined in the Constitution.
U.S. LAW PERMITS ASYLUM SEEKERS INGRESS INTO THE COUNTRY
According to U.S. law, it is not illegal for an individual to enter the country without a visa in order to seek asylum.
In order to curtail access to asylum seekers who are permitted to live and work in the U.S. while their application is processed, President Donald Trump used his national security powers to deny asylum to anyone who crossed the border illegally.
In November, Judge Jon S. Tigar of the U.S. District Court in San Francisco issued a temporary nationwide restraining order barring enforcement of that policy. It remains to be seen how the lawsuit plays out in face of the new developments.
Read more on Twitter Amomama USA.
MOTHER REUNITED WITH SON DETAINED FOR SEEKING ASYLUM
Karen Yadira Rodriguez Gutierrez, a legal resident of Virginia, waited for 6 months to see her 11-year-old son released from custody after he crossed the border illegally.
The boy was traveling with his undocumented grandmother and tried to ask for asylum but was detained by Customs Enforcement
Gutierrez filed a lawsuit against Trump's administration, which led to her son's release into her custody and their longed-for reunion.
Please fill in your e-mail so we can share with you our top stories!